Not all retail businesses have an exclusive shipping department. Regardless, as a retailer, it is critical to be aware of important shipping terms to be on top of your contract negotiation game. Here is a glossary of shipping terms that will give you the upper hand when you approach your carrier.
1. Air Waybill (AWB): It is a contractual document agreed between the shipper and the carrier. As long as the airway bill is valid (signed by the carrier), the carrier is responsible for the goods that are transported. Once delivered to the respective consignee, the contract expires. More importantly, an airway bill number is a unique eleven digit number that is assigned to a shipment. Using this unique number, the shipment can be monitored in real time.
Read more on how to complete FedEx international Air Waybill here.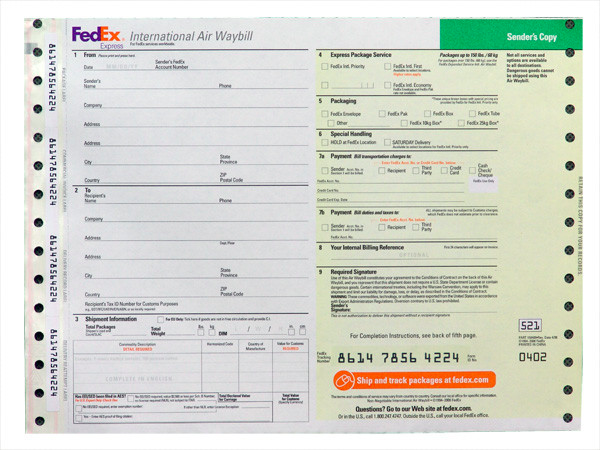 2. Bill of Lading:  This is also a contract between the shipper and the carrier that gives detailed information about the quantity, type and destination of the goods shipped. The difference between Airway bill and Bill of Lading is that the former is non-negotiable while the later can be negotiated.
The Bill of lading also acts as a receipt to confirm delivery of the shipment.

3. Bonded Warehouse: Whenever businesses ship packages internationally, bonded warehouses provide a safe and secure place to store these goods. They also benefit a retailer as storing in a bonded warehouse could aid them in deferring any additional duty tax. Most warehouses offer upto 5 years of storage with deep storage, bulk storage and dry container storage facilities.
4. Certificate of Origin: Whenever goods are imported or exported, a certificate of origin is required as an attestation to the place where the item was originally manufactured or produced. This also acts a determinant while deciding if the goods should be allowed to pass duty-free or not.
Fun Fact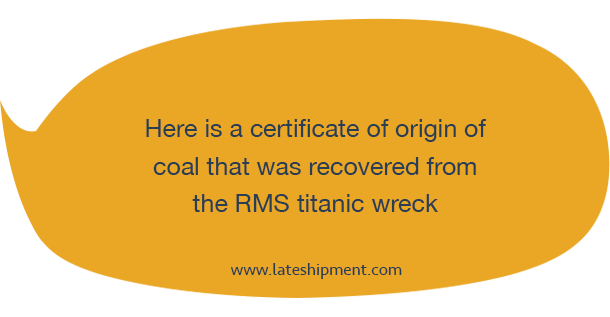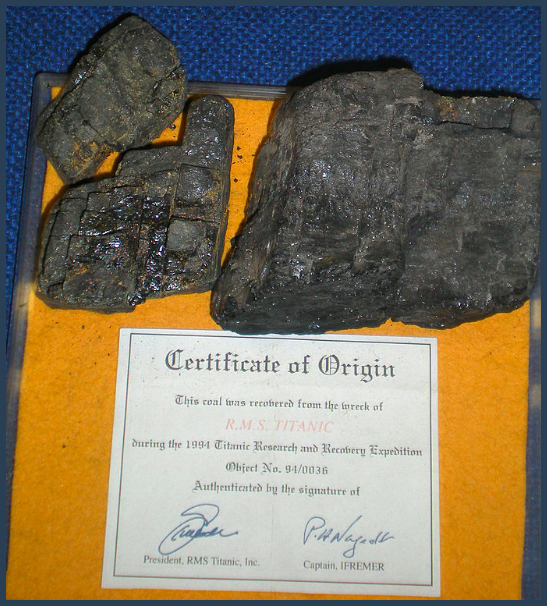 5. Commercial Invoice (CI): An invoice for an international shipment that describes in detail the total number of goods sold and total outstanding payment. While a shipping invoice gives basic details that include the shipper's name, shipment quantity and total cost of items, a commercial invoice provides exhaustive information such as description of packaging, volume of goods, per sale price, insurance cost and shipping charges.

6. Consignee: A person to whom the goods are shipped.
7. Customs Entry: All internationally shipped goods need to be declared at the time of transportation.  The importer also has to pay a duty on all the imports. The declaration is compared against the shipping manifests of the imported goods.  FedEx customs clearance fee ranges from $29.50 to $97.50 depending on the shipment value
Fun Fact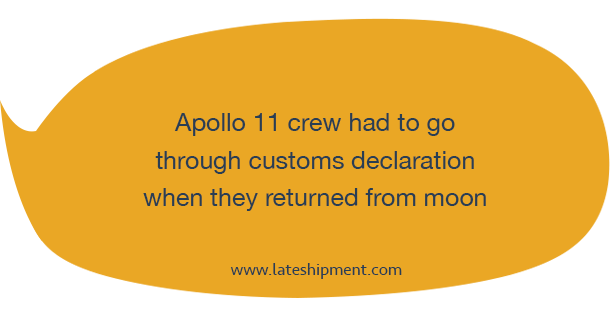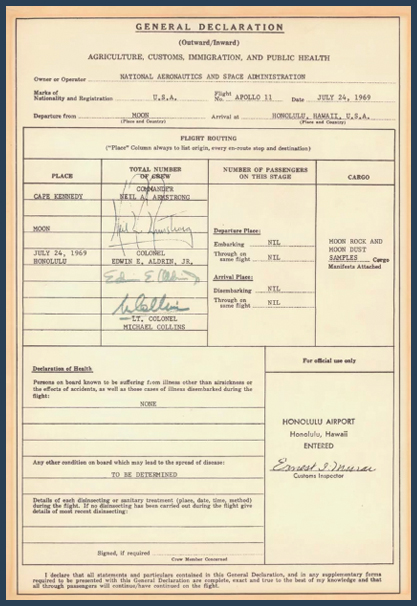 Credit: NASA/U.S. Customs and Border Patrol.
8. Dangerous Goods: Certain substances that could prove hazardous to the environment need to be handled with special care. Transportation of dangerous goods are controlled by various stringent regulations to prevent a spillover of potential hazards. Some of the regulatory frameworks includes United Nations Recommendations on the Transport of Dangerous Goods, ICAO's Technical Instructions, IATA's Dangerous Goods Regulations and the IMO's International Maritime Dangerous Goods Code.  Both FedEx and UPS allow the shipment of hazardous materials through service types such as ground, express and custom-critical.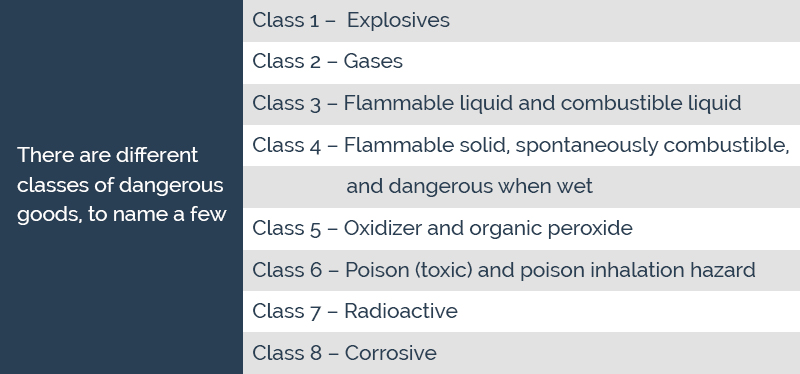 9. Declared Value for Carriage: The cost of shipment that is declared to the carrier by the shipper. In case of loss or damage, the value declared will limit the liability of the carrier.
10. Delivered/Duty Paid: When shipping internationally, in addition to the shipping costs, ancillary charges such as customs duty and residential address charges are included in the shipping invoice. Retailers have to ensure that delivery duty is paid so that customers are not burdened with these charges.
11. Dimensional Weight: While calculating the weight of the package, carriers consider either the actual weight or the volumetric weight, whichever is greater.

Here's an updated list of dim divisor used in the calculation of dimensional weight for UPS, FedEx and DHL packages:

Read more about Dim weight pricing
12. Electronic Manifest (E-Manifest): While shipping in bulk, a list of packages that are shipped is created by the retailer before handing over to the carrier. Electronic manifests list the number of packages that are being shipped.
13. ETA: Estimated time of arrival or estimated time of availability. It refers to the date and time a package is expected to arrive at its designated destination.
14. Foreign Trade Zone (FTZ): A duty-free zone where goods can be stored, transported, exported or imported. These are classified as special economic zones that are exempt from customs duty.
Fun Fact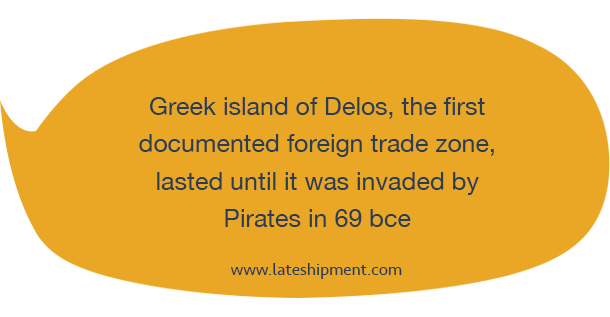 15. POD: Proof of delivery or port of dispatch. FedEx and UPS generate electronic proof of delivery which is instantly updated to the shippers' account.
16. Import License: Document issued by the national government authorising the import of certain goods. Although the US does not require import license, retailers shipping goods to international destinations must be aware of regulatory framework to ensure safety and conformity.
Fun Fact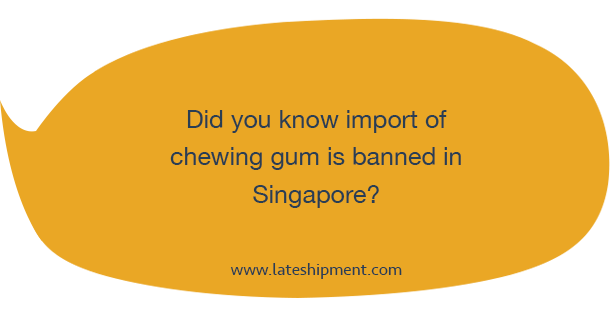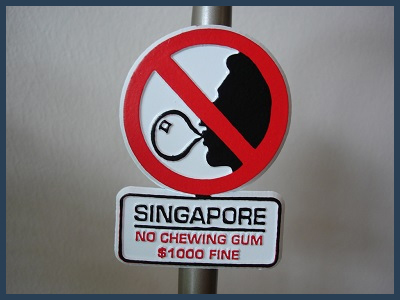 17. Multiple Package Shipments: When a package is oversize or exceeds the stipulated weight, it could be shipped by splitting into multiple packages with the same tracking number. Most global carriers such as UPS, FedEx and DHL offer multi-piece shipping option for select packages.
18. NAFTA Certificate of Origin: North American free trade agreement was established to eliminate trade barriers between the US, Canada and Mexico.
19. Non-Document Shipments: Shipments that would be subjected to a customs duty when transported to the destination country.
20. Pro Forma Invoice:  A preliminary invoice that states the estimated value of the orders sent by the seller to the buyer. Businesses issue a pro forma invoice in order to get the Purchase order approved. It is also considered essential by customs while clearing imported goods.
21. Shipper's Export Declaration (SED): A document issued by the government of the United States for export of goods valued at $2500 or greater.
22. Shipping Weight: The gross weight of a shipment expressed in kilograms that includes packaging.
23. Tariff:  A duty that is levied on imported goods.
Fun Fact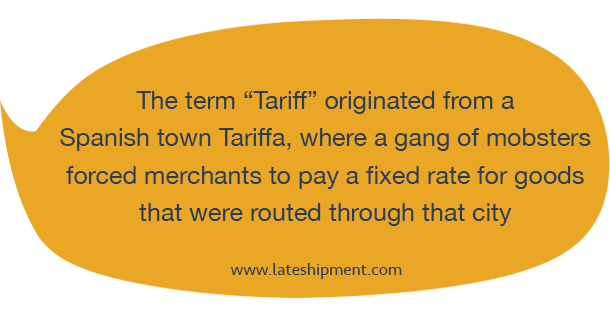 24. Value Added Tax (VAT): An incremental tax imposed on goods based on the value of the goods. While 160 countries have VAT, the US has no VAT as of yet.
25. Waybill: A document issued by the carrier that accompanies shipments including details such as the name of consignor, consignee, origin and destination.