About time you stopped overpaying your shipping carriers.
Think of us as your personal advocates making sure you get your money back – only our
process is quick and automated. And there are zero out-of-pocket costs.
Identify every carrier error, effortlessly
Lost and damaged claims management

Incorrect surcharges & billing errors

Delivery issues
Recover up to 20% of your shipping cost
Efficient claims submission processes

Expert claim redressal team
Make data-backed shipping choices
Granular multi-carrier performance metrics

Refund reports

Shipping spend and geographic reports
Make the most of those money-back
guarantees you're entitled to
Short eligibility window, complex terms, and conditions – none of this
should stop you from claiming money that's rightfully yours.
There are more than 50 service failures, overcharges, and discrepancies that are eligible for refunds. Some of these are so common they go unnoticed. Our rigorous audit systems, adapted over years of tracking 100+ million shipments globally, scan all your shipments and effortlessly pull up every service failure so you don't lose valuable dollars month-on-month for your carriers' failures.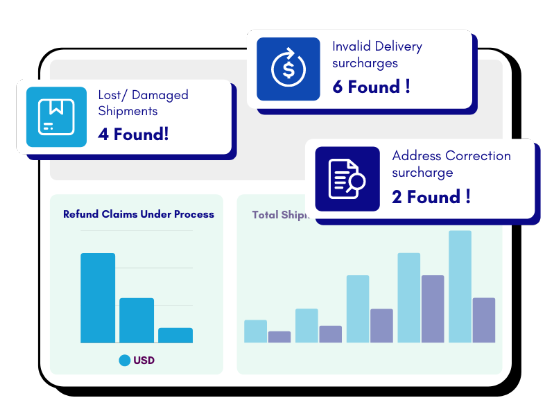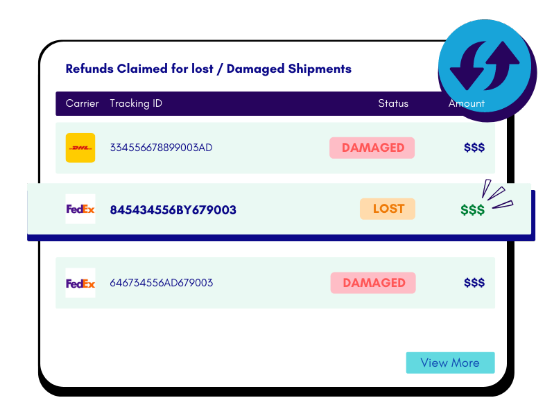 You may already be losing valuable customers to lost and damaged shipments. Don't lose your money too. The process of claiming refunds can be time-consuming, boring, and complicated. We simplify things with a comprehensive lost and damaged claims management system that identifies and automatically submits relevant claims.
Carriers seem to make the claim processes particularly difficult. Our automated systems can navigate these to still recover your money. We cross-reference every delivery issue or billing discrepancy with every minute detail of their terms and conditions to ensure an eligible refund claim is submitted for it. Thorough follow-up by an expert team ensures maximum refund recovery.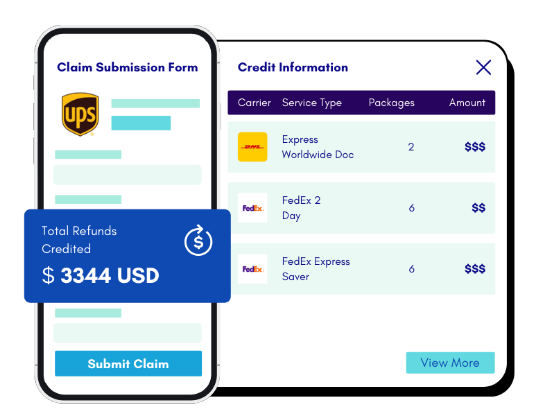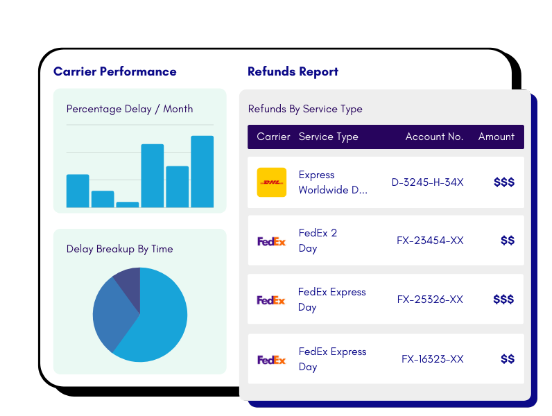 Shipping takes a lot of effort, time, and most importantly money. It is only smart that you review and evaluate your choices and decisions with the help of good data. Not just that, keeping a close watch on delivery issues and carrier performances ensures better service quality by your shipping carriers.
Why shipping refunds matter
LateShipment.com integrations that
give you post-purchase superpowers
Monitor in-transit shipments in real-time and get predictive alerts for parcels facing delivery delays. Build brand-consistent order tracking experiences. Audit shipping invoices & recover refunds to save up to 20% on shipping costs.
Get predictive alerts for parcels facing delivery issues and proactively fix them before customer impact. Send automated order status notifications. Build branded order tracking experiences for your customers.
Proactively resolve delivery issues with predictive alerts for parcel delays. Send automated order status notifications. Build branded tracking experiences. Increase sales with marketing campaigns on tracking pages.
Trigger automated tickets for delivery-related customer issues. Enable agents with order tracking information within your Helpdesk to help them proactively resolve customer issues with faster resolution times.
Proactively resolve delivery-related customer issues and send automated order status notifications. Enrich customer information with their overall delivery satisfaction ratings. Build brand-consistent order tracking experiences.
Send brand-consistent shipping transactional emails to customers for multiple order delivery events. Increase sales with product recommendations and campaigns on shipping emails. Capture delivery experience feedback.
The ultimate post-purchase Suite
Do bigger things with your post-purchase
Don't stop with a great delivery experience. Go all out with our post-purchase excellence cloud. It combines stellar delivery experiences with easy, seamless returns – all while significantly reducing your shipping spend by auditing your invoices and recovering eligible refunds from your carriers.