2018 State of Holiday Shipping in the U.S.
An unbiased statistical representation, observation and forecast from a delivery performance standpoint for FedEx and UPS during the 2018 Holiday Season.
How prepared is your business to handle delivery congestions this holiday season?
With 1.2 Billion packages expected to be shipped via FedEx and UPS, shipping carriers will be straining to fulfill orders as the shipment volume surges beyond their ability to handle the holiday rush. An influx of orders means a decline in on-time deliveries, in fact 2017 saw a 5X increase in delivery delays during the Holiday season and 2018 is likely to fare worse.
Get access to LateShipment.com's forecast report to know what to expect from shipping carriers in 2018, and build a successful last mile strategy.
Why is this a must-have report for every retailer and logistics expert this holiday?
Unbiased benchmark report aggregated from over 75 million small parcels
Data-led forecast for FedEx & UPS's on-time delivery performance during 2018
State/ City specific shipping volume and parcel delay rate
Performance analysis of service types – Includes ground and express shipments
Parcel delay rates for key retail categories during the holidays
Retail Industry Leaders
eCommerce Business Owners
Supply Chain/ Logistics Team
Customer Support Team
eCommerce Consultants
Retail Media Publications
2018 State of Holiday Shipping in the U.S.
[Preview]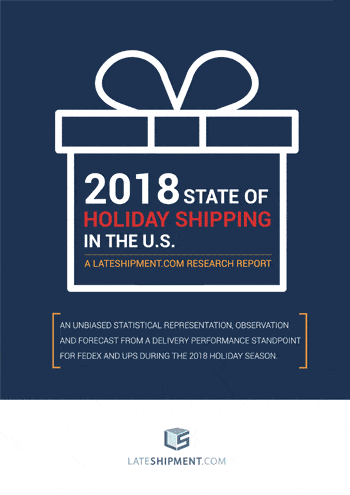 LateShipment.com featured in the press

Supercharge Your Last-Mile With LateShipment.com
Trusted across the world by
companies of every size
---






Know why our customers love us!