It isn't surprising that the Coronavirus pandemic has brought the global economy to its knees.
According to a World Bank report, the global economy is in the worst recession since World War 2. Such is the toll the COVID-19 pandemic has exacted.
More importantly, official World Health Organization statistics suggest that globally over nine hundred thousand people have succumbed to COVID-19's cold hands. Its shadows yet lurk around looking for new victims. 
The eCommerce sector is feeling Coronavirus-induced effects in a big way too. 
How can eCommerce retailers boost employee morale in these trying times?
What are the effects of the Coronavirus pandemic on eCommerce retailing?
Effects Of The COVID-19 Pandemic on eCommerce Retailing
Evidence suggests that the global eCommerce market is snowballing despite the Coronavirus pandemic.
Restrictions placed on movement have left most people with no choice other than to make their purchases online. This has prompted some retailers to move their retail business entirely online.
However, travel, fashion, and events still appear to be struggling to survive the shark-infested waters of the COVID-19-shattered global economy. 
The general increase in eCommerce retail sales means more job tasks for employees. This can overburden them and affect their morale.
As a business leader, your leadership skills are needed in these crucial times. It will help if you put all hands on deck to keep them motivated to give their best to grow your eCommerce retailing business and churn out innovative ideas to prevent your customers from leaving for competitors.
Here are proven ways to boost employee morale and ensure they give their very best during the COVID-19 crisis.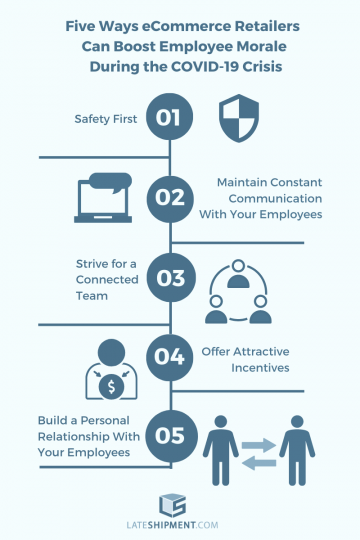 Five Ways eCommerce Retailers Can Boost Employee Morale During the COVID-19 Pandemic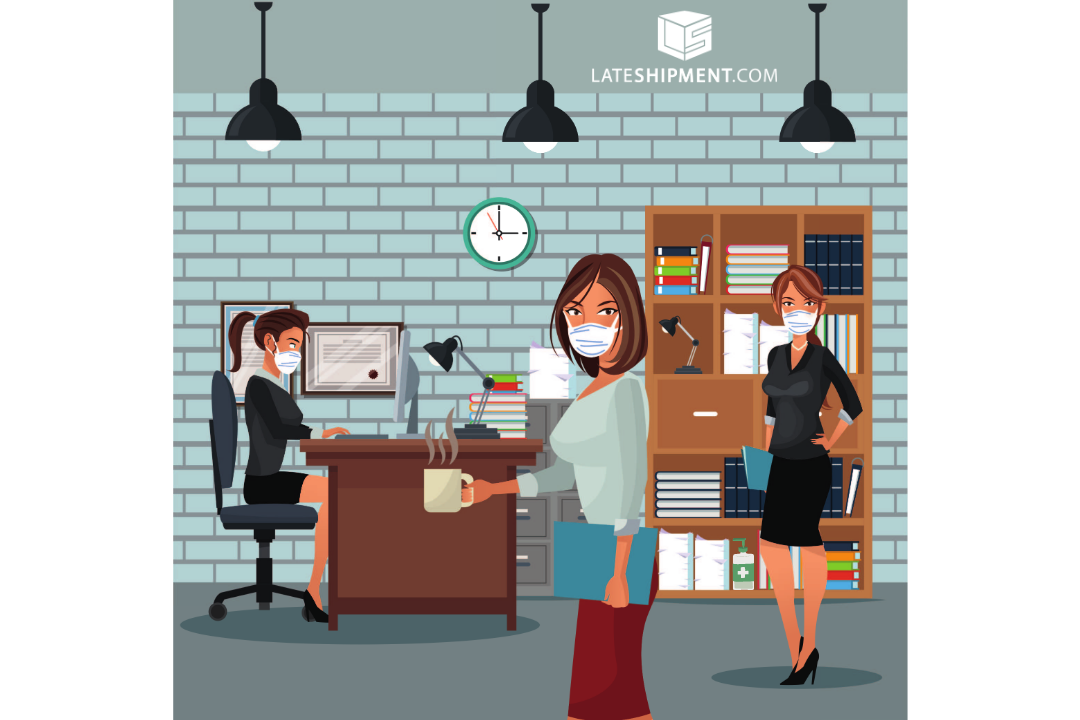 Creating a safe workspace is the first step in boosting employee morale.
There could be few things more depressing to employees than discovering that their line of work significantly exposes them to dangerous diseases like Coronavirus when they are not frontline health workers. The employer not showing enough care can make matters worse.
eCommerce retailers should leave no stone unturned in ensuring strict compliance with safety policies.
Cleanliness and personal hygiene should be your company's watchwords.
Provide hand sanitizers and other preventive kits, and ensure that contaminated kits are effectively disposed off to prevent the spread of the disease. 
Knowing that you care about their health in these trying times will do wonders in boosting your employees' morale. 
Regardless of the safety measures you choose to enforce, ensure t