My perception of building an e-commerce brand looks fun. All you need is to create a specialized domain with your brand name, work with different teams like marketing, sales, and customer experience to understand how you can further attract customers, sell not just products but something that brings out your own identity, etc. Looks really "fun".  
E-commerce merchants running a business IRL might disagree with me on this one as things are not as rosy as it sounds. There are challenges in the form of heavy competition, ever-changing consumer trends, and costs and other efforts required in brand building. 
But that's just the tip of the iceberg. The real problem lies in keeping things consistent and building the brand's reputation. That means, having an established brand is not enough — you have to ensure that customers keep coming back to your store and talking positively about you. And that is rightly termed as 'brand loyalty'.
Take Apple, for instance, their products may have certain ups and downs now and then but customers who have been using Apple's products will almost always continue upgrading rather than changing brands. Yes, brand loyalty has a lot to do with building this level of 'fan-following'. 
Brand loyalty is simply customers' taste and preference toward a specific brand to the extent that they keep choosing the same brand despite multiple brands in the fray. 
But a competitive advantage isn't the only reason why e-commerce brands must focus on building loyalty. There are far higher benefits for them in the form of:
Increased chances of repeat purchases –

Retained customers spend 5 – 25% more than new customers

Increased brand reputation –

Satisfied customers are more likely to share that experience with their friends and families and play a huge role in attracting more customers
Increased cost savings –

It is 5 times more expensive to attract a new customer than an existing one
Just like how a loyal customer tribe is crucial to brand building, a positive overall customer experience is a major contributor to brand loyalty. 
At this stage, it is important to remember that most of your efforts to build customer loyalty take place after the customer makes a purchase. However, the post-purchase phase is notorious for multiple issues that can affect the customer experience when unattended. Thus, we've set this article's focus primarily on post-purchase issues that can cause a bump in your brand loyalty efforts. 
Without any further ado, let's take a look at the e-commerce hiccups in the post-purchase that bust brand loyalty and how you can tackle them.
E-Commerce Hiccups That Bust Brand Loyalty And How You Can Tackle Them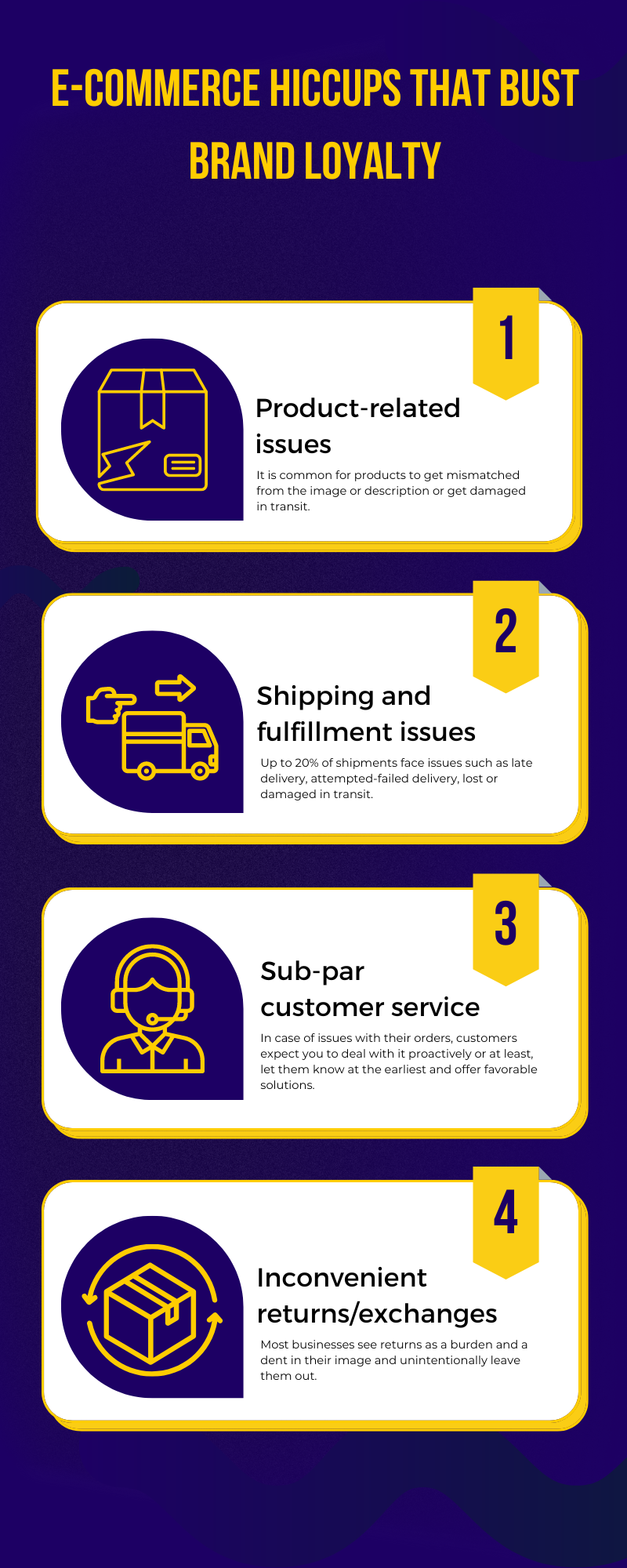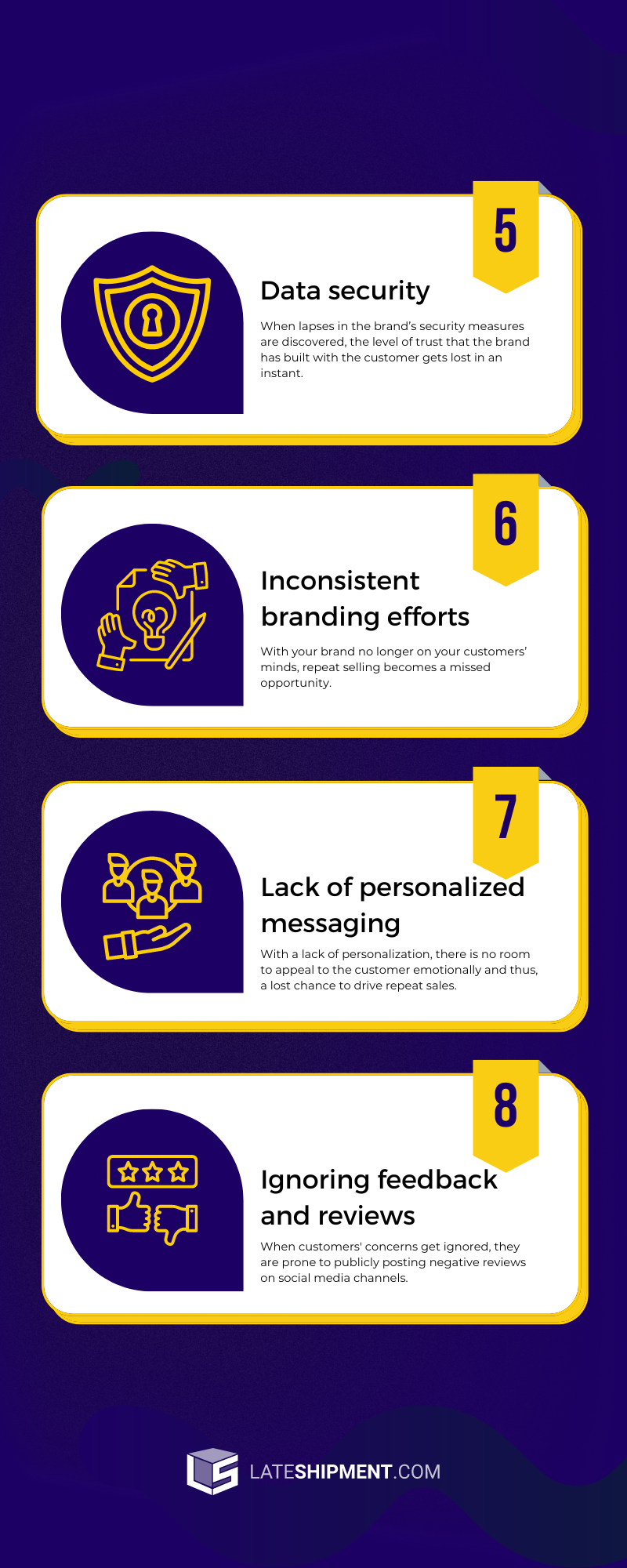 Customers today have high expectations for their purchases and you have no option but to strictly meet them in order to improve satisfaction. One of the major areas where customers have great expectations is the look and quality of the product they've purchased. In case it doesn't match the image or description or if it is damaged/delivered broken, then their anticipation changes to disappointment, and leads to low confidence in your brand. To resolve such incidents, brands can take careful measures to provide images, videos, and descriptions of good quality that showcase the product as it is. Also, there are some definite ways to effectively handle damaged packages so that you can recover your lost dollars and your customers are no longer frustrated.