If you have happened to follow the news in the recent past, you might be aware of the global supply chain crisis that is happening:  
The number of container ships around ports has doubled since April

Dwelling times of containers has reached 6-10 days, way above the average 4-5 days

Railyards have also been clogged, with trains at one point backed up 25 miles outside a key Chicago facility. 
All of this can threaten to spoil the Holiday season joy for e-commerce retail businesses such as yours by eating into your profits. 
There are more negative consequences of this supply chain crisis but before we look at them, let us find the answer to the question, what really is causing these logjams? 
What is Causing This Supply Chain Crisis?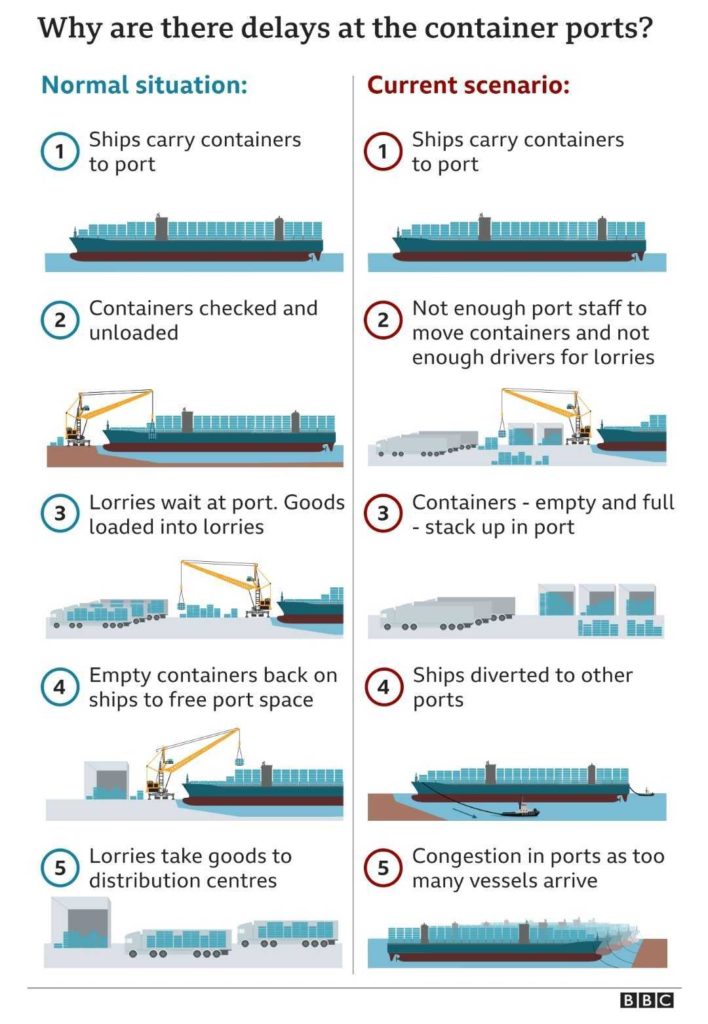 "There are going to be disruptions and shocks to the system as long as the pandemic persists and could last into 2022" – Pete Buttigieg 
Americans who chose to stay home and came outside after feeling trapped at home for a long time have been equally spending dollars on shopping goods such as laptops and at places such as restaurants, triggering an unprecedented increase in demand that the nation's unprepared logistics system was unable to handle.
Consumer goods demand is overall 22% higher compared with pre-pandemic levels (comparing February 2020 with August 2021). – BBC
This sudden increase in demand doubled with the negative consequences of the pandemic such as workers getting affected by the virus, nationwide lockdowns, shutting down of operations, etc., resulted in lower production and distribution businesses and thus businesses ended up not being able to handle the demand.
This demand > supply factor doubled down with external factors such as shortage of workers and effects of climate change, etc is said to have caused this crisis in the supply chain.
E-commerce activity has witnessed major gains and has subsequently impacted warehousing and importing, straining logistics and supply chain networks. – White House media release  
Large businesses have the bandwidth to double down on their logistics operations and make sure they are least affected by this global phenomenon. But what about small businesses?
What Does This Supply Chain Crisis Mean for E-commerce Businesses?
Industry experts see momentary changes between the situation getting worse and staying at a standstill. Either way, it doesn't look like it's normalizing. 
As the customer demand doesn't seem to be going down anytime soon, you can expect the situation to continue into 2022 (beyond the Holiday season). 
This naturally conveys that your customers' Holiday season orders could hit a slump and would lead to a big blow on your revenue. Everything from Halloween costumes, to tech products such as computers and printers for Black Friday, Christmas decors and lights are all set to reach your customers late due to the current crisis. 
The commercial pipeline that each year brings $1 trillion worth of toys, clothing, electronics, and furniture from Asia to the United States is clogged and no one knows how to unclog it. – Washington Post
If these disruptions don't seem enough to lose revenue, your shipping and freight costs are known to increase, leading to a cut down on your customers' discounts in order to meet ends. 
Moreover, you can as well anticipate lower purchases from customers, who will shop less due to the sudden inflation. 
But don't let your hopes down. There are measures simultaneously being taken and which you can take to counter the crisis. Understand what they are and make sure that you are least affected by them.