Introduction
Shipping wine is, to put it mildly, a complicated process. 
Firstly, shipping wine requires a license for the manufacture and shipping of wine. Secondly, there are numerous state laws to be complied with: laws of both the state of origin and the destination state. Thirdly, a specific wine shipping contract with a shipping carrier like UPS or FedEx is required. By the way, the United States Postal Service does not ship wine!
The United States Postal Service does not ship wine!
If you are Canadian, know that the laws around shipping wine are complex and still evolving within the country, but this hasn't prevented retailers like this one surmounting the challenges and thriving.
Why does shipping wine have to be so complicated, you ask? Well, the answer to that lies in one word: prohibition. The result of the prohibition era in the country (from 1920 to 1933) was that individual states were given the power to legislate on whether and how they would allow the manufacture and shipping of wine to take place.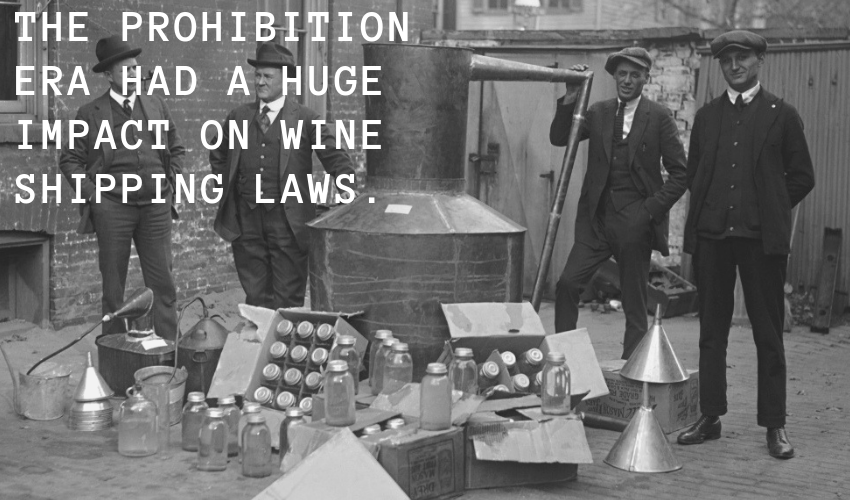 State-Wise Laws on Shipping Wine
Utah, Arkansas, Mississippi, and Alabama prohibit the direct shipment of wine from wineries to customers. In Kentucky, residents may have wine delivered to them from wineries that produce less than 50,000 gallons of wine annually, but neither UPS nor FedEx deliver to the state.
Ohio and Louisiana limit the number of cases of wine that may be shipped to state residents annually.
Delaware prohibits direct shipping of wine to state residents. Residents may, however, bring or ship wine home from out-of-state wineries, although shipping wine by common carriers like UPS and FedEx is banned. The same is true for Rhode Island.
States like California and Colorado don't restrict direct shipping from wineries.
As is evident, there are a wide gamut of laws concerning wine shipping in the various states.
If you intend to ship wine, what you need are awareness and a plan.
Getting Started with Shipping Wine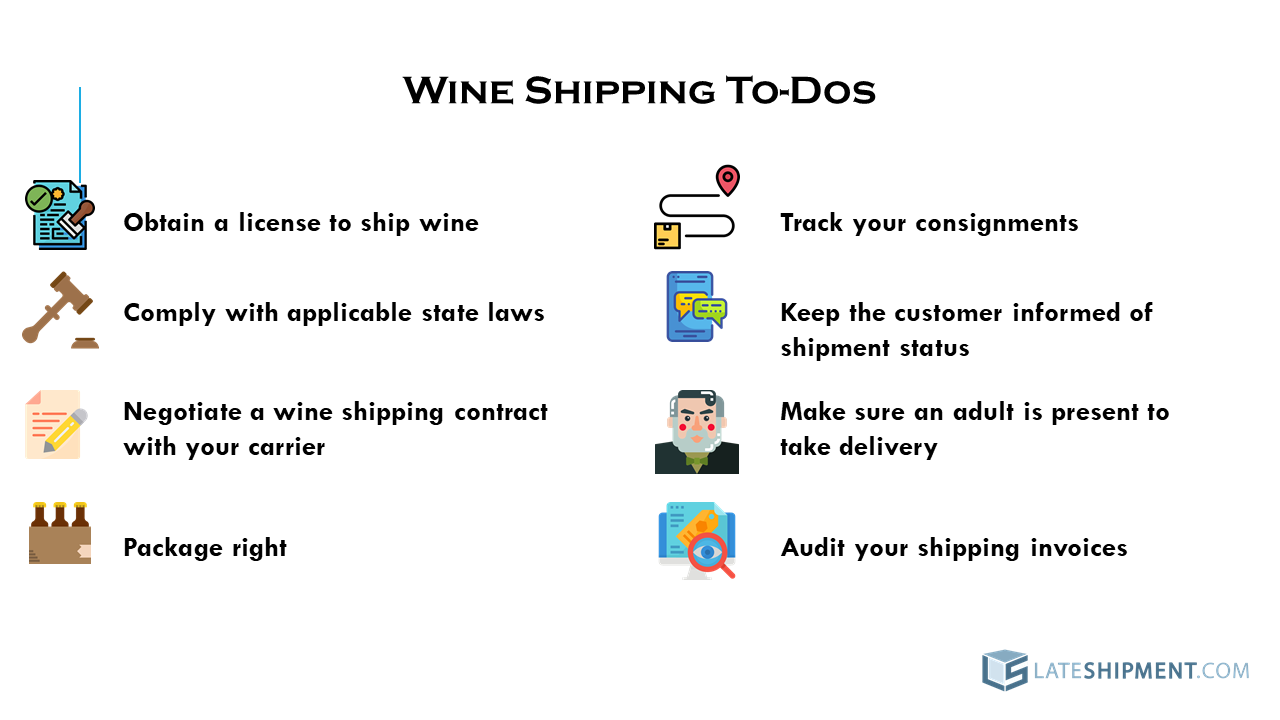 Obtain a License to Ship Wine
As mentioned earlier, shipping wine requires a license. There are licenses issued by the various states for this purpose. The fees involved in obtaining a license vary widely from state-to-state.
For example, the fee for direct shipping of wine in California is $10, but in New Mexico, it varies between $150 and $1150. As a first step, make sure to research the licensing requirements and costs for the states you intend to ship to.
Comply with Applicable State Laws
Comply with the laws of the state you are shipping to for a painless shipping process. For example, in Arkansas, only one case per month may be shipped to a person. In Indiana, the limit is a much more liberal 5000 cases per year per winery.
Direct shipping of wine to Utah is a third degree felony, so the major carriers don't ship to that state.
Negotiate a Wine Shipping Contract with Your Carrier
FedEx and UPS require that anyone who wishes to ship wine must first enter into a specific contract with them.
For FedEx, this contract is called the FedEx Alcohol Shipping Agreement. As for UPS, shippers who wish to ship wine must enter into either the UPS Agreement for Approved Wine Shippers or the UPS Wine Industry Fulfillment House Agreement For Approved Wine Shippers.
Make sure you do your research and weigh your options before entering into any agreement with a shipping carrier. This will ensure you get the best possible shipping terms and rates. Do not, under any circumstance, waive off your right to refunds.
Package Right
The quality of packaging is critical when you ship wine. The last thing you want is your expensive bottles breaking in transit.
Use a corrugated box with polystyrene inserts. Let the box be a little larger than the size of your bottles. Pack the bottles as far from the walls as possible to avoid movement or breakage during handling. Use pressure-sensitive packing tape generously to seal up the closure flaps and prevent bottles from falling out the bottom when in transit. The number of bottles in a case of wine is usually 12. Each bottle holds 750 ml.
Wine consignments must be identified as such in the label. Further, there may be additional labeling required by the origin or destination state.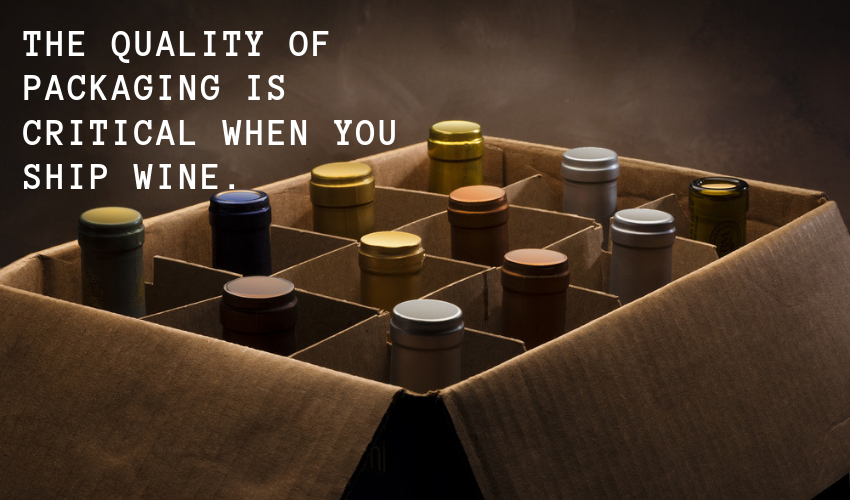 Track Your Consignments
Wine is a time-sensitive product and delays can alter quality. Make sure you track your shipments when they are in transit. Consider using an automated service that can predict delays to make the process easier.
Keep the Customer Informed of Shipment Status
Keeping your customers up-to-speed with the status of their shipments is a healthy practice regardless of the product being shipped. It helps build trust and prevents confusion in the event of any shipping carrier exception occurring. A positive shipping experience for the customer helps you retain them.
Send out periodic SMS and e-mail alerts while a customer's parcel of wine is in transit. This channel of communication could also come in handy to gently advertise your other wine varieties.
Make Sure an Adult is Present to Take Delivery
The law mandates that only an adult 21 or older with valid ID can take delivery of a consignment of wine. A large number of wine parcels go undelivered because of an adult not being present to take delivery. This is all the more reason to ensure proper communication channels are present between you and your customer during shipping.
A large number of wine parcels go undelivered because of an adult not being present to take delivery.
Audit Your Shipping Invoices
Shipping carriers like UPS and FedEx are more prone to delays and other errors than one might expect. It is therefore a healthy practice to audit your shipping invoices and claim refunds for service failures where applicable. As with parcel tracking, using an automated service for this purpose can go a long way toward simplifying the process.
Auditing your shipping invoices and claiming refunds becomes all the more important as a wine shipper. Wine is an expensive commodity that takes intensive effort to prepare. Any delays or damage during shipping can make a significant dent in the profitability of your business. Auditing invoices and applying for refunds ensures not only that you receive refunds to offset damage during transit but also impels your carrier to provide you better service moving forward.
Conclusion
Shipping wine is far from a straightforward process. Compliance to various state and federal regulations is required at every step of the process. And there are significant fines to be paid for non-compliance. To ship wine is to step into a minefield, and yet, there are numerous businesses that thrive in the sector: businesses not just in the United States but also in Canada with its similarly complicated wine laws.
At the end of the day, what it takes to make it in the wine shipping business is an awareness of state and federal laws and the requirements of shipping carriers as also a desire to delight your customers. Now go enjoy a glass of the best from Sonoma or Napa as you watch the sun set behind the misty, vineyard-covered hills!