With consumers fast pivoting to eCommerce in the past few years, particularly during the 2020 pandemic, eCommerce logistics are steadily evolving to make the most of the new challenges.
To keep up with the competition and growing consumer expectations, it makes sense for businesses, manufacturers, and 3PLs to stay in the know about some of the most pressing eCommerce logistics trends.
And so, here are the top five emerging and promising eCommerce logistics trends for 2022.
Trend #1: The Rise of Direct to Consumer (D2C) Fulfillment
A relatively new business model in the eCommerce logistics sector is the direct-to-consumer (D2C) strategy, where brands produce, market, and sell products directly to the consumer themselves, doing away with any middlemen.
The COVID-19 pandemic furthered this push as in-person shopping took a huge hit in 2020 and beyond. This played a major role in D2C eCommerce sales in the US reaching $111.5 billion in 2020 and projected to surpass $151 billion in 2022.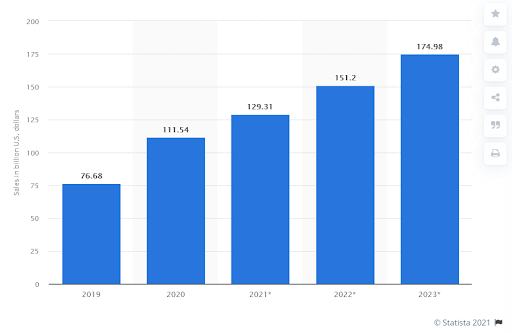 While still a bit experimental, D2C can be a win-win fulfillment model.
For the manufacturer, it eliminates the barriers in reaching their end consumers, allowing greater control over branding, reputation, sales, and customer service. 
D2C businesses can also experiment with distribution models, from shipping directly to consumers or partnering up with third-party fulfillment providers for more efficiency to opening pop-up shops.
As for the consumers, they too are starting to prefer buying directly from the manufacturer's website, with the obvious benefit being better deals.
So, succeeding as a D2C business in a market defined by both consumer demand for fast, error-free delivery and pressure on shipping networks demands a strong fulfillment strategy with an ability to scale quickly.
Trend #2: Use of IoT for More Transparency and Quality Assurance
The Internet of Things (IoT) and big data tech is pushing the boundaries of efficient eCommerce logistics.
Whether you're getting goods across the world from manufacturers to your warehouse, or shipping from them to a third-party warehouse/fulfillment partner, or from your manufacturing facility to a third-party fulfillment partner — there's a need for more transparency and better quality assurance (QA) in logistics even before the customer places an order.
Such use of data improves transparency and enables real-time visibility of the shipment because, with real-time location and condition data, problems can be readily discovered and tackled. This, in turn, boosts efficiency and reduces downtime.
However, leveraging this tech is still an expensive affair. You need a huge proprietary hardware system with its infrastructure. There are lots of moving parts to manage.
Fortunately, a data logging system such as Logmore empowers suppliers and businesses to collect and monitor logistical data of goods as they move across the supply chain.
By offering QR data loggers on a subscription basis with inexpensive tags, Logmore lets you scan the dynamic code with a smartphone to get all real-time data straight into a secure cloud-analytics app. This makes it easy