As a retailer who ships to your customers, have you struggled to choose the carrier that suits best for your business?
Luckily, there aren't hundreds of companies for you to skim through and choose the ultimate one, which is obviously a tedious process.
There are three basic choices for you — namely, DHL, FedEx, and UPS.
The three private giants have been in business for decades and have transported billions of parcels. Yet, there remain doubts aplenty about each of their strengths and weaknesses.
What about USPS, you ask?
The government-run carrier is most often significantly cheaper and a great option for small business shipping. It, however, does not have the variety of short-term expedited options that DHL, FedEx, and UPS have.
For our purposes, we will limit our study to the three private carriers, so that you can choose the carrier that is tailored to your business.
DHL Vs. FedEx Vs. UPS: Comparing the Carriers
Although competing with each other daily, DHL, FedEx, and UPS have their uniqueness. Knowing in-depth about them, their services, their pricing model, etc can help you understand them better. 
Let's start with DHL.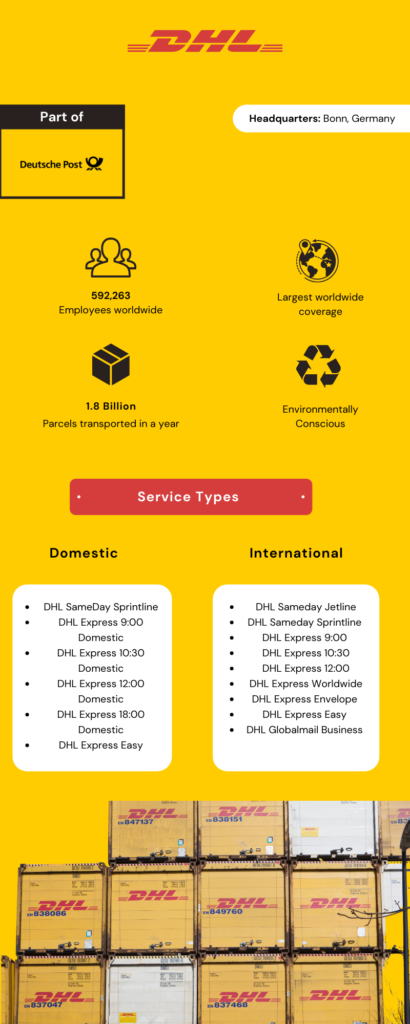 DHL is an American-founded company that is now part of Deutsche Post. It is headquartered in Bonn, Germany.
Today, Deutsche Post DHL is known to be the world's largest logistics company. Its international game is by far the strongest among the three, and it is the only carrier that delivers to sanctioned nations like North Korea.
DHL operates a gamut of services to cater to the shipping needs of its customers – Some of its domestic non-freight service types are DHL SameDay Sprintline, DHL Express 9:00 Domestic, DHL Express 10:30 Domestic, DHL Express 12:00 Domestic, DHL Express 18:00 Domestic, and DHL Express Easy.
Its international non-freight offerings include DHL Sameday Jetline, DHL Sameday Sprintline, DHL Express 9:00, DHL Express 10:30, DHL Express 12:00, DHL Express Worldwide, DHL Express Envelope, DHL Express Easy, and DHL Globalmail Business.
Since DHL is a non-American company, it is not permitted to make domestic flights between U.S. airports. As a result, it contracts U.S. domestic services to other carriers.
Dr. Frank Appel is the current Chief Executive Officer of Global Business Services and Ken Allen is Head of eCommerce Solutions at DHL. The carrier currently employs 590,000 employees including trainees.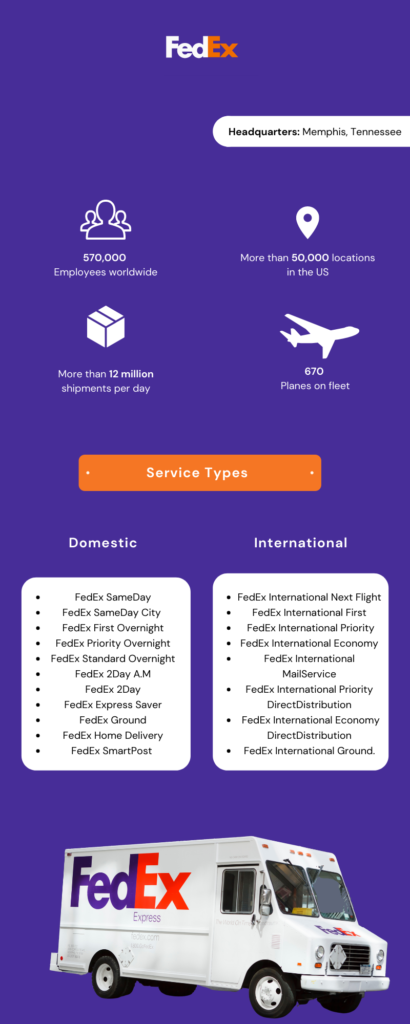 An American multinational corporation founded in 1971, FedEx is headquartered in Memphis, Tennessee.
In its early days, FedEx was the pioneer that introduced an overnight shipping service as well as a system capable of tracking packages and providing real-time location updates. Today, it operates services in over 220 countries and territories. Within the US, it's possible to pick up, drop off, or ship at more than 50,000 FedEx locations.
FedEx offers the following service types for non-