Customers are no longer just interested in low prices, fast shipping, and free returns have constantly been the three must-haves for an online business to make the cut in today's market. 
They want e-commerce brands to treat them with the proper experience that can lead them to shop again. 
However, most brands unwillingly make the mistake of not giving the same level of attention to their post-purchase as they do to their pre-purchase. This is because brands feel the customer journey ends with the 'buy' button. Which is not the case. 
This lack of attention and leaving out the post-purchase order delivery phase at the hands of the shipping carrier often leads to bad delivery experiences and ultimately a post-purchase CX gap that can cost you customers and money. 
In order to close this existing gap and create the opportunity to delight customers in the post-purchase phase, brands must start crafting stellar delivery experiences. Here comes Delivery Experience Management (DEM) that can help you do just that. 
To get better context, let's start with what DEM stands for.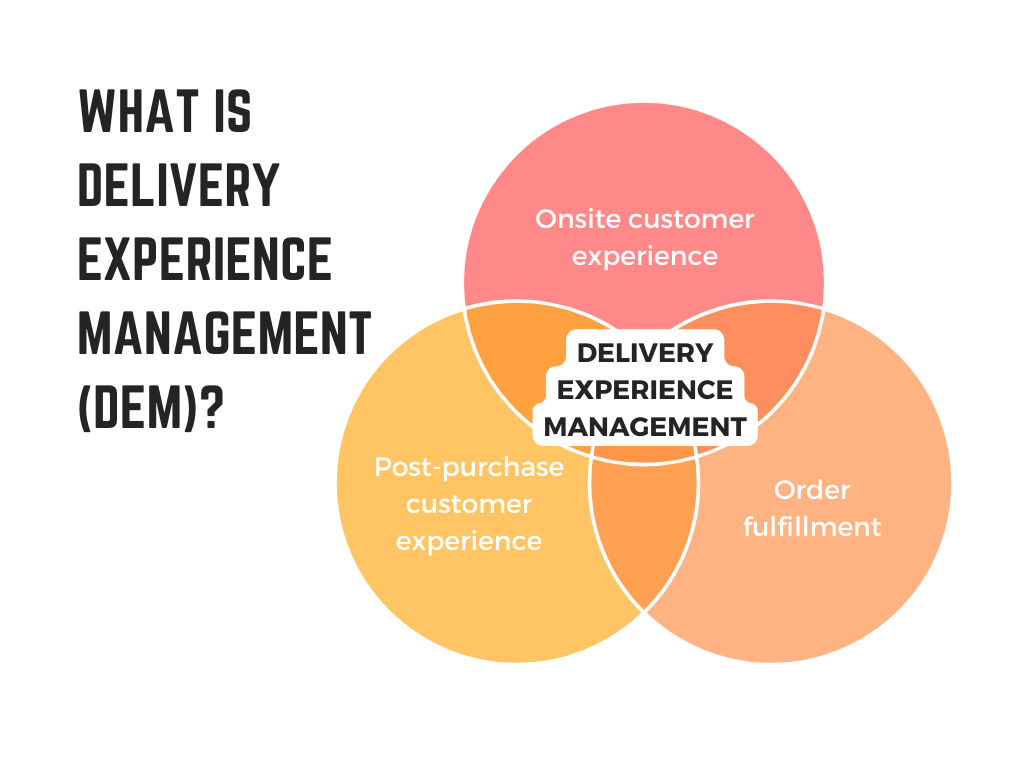 What is Delivery Experience Management (DEM)?
Delivery Experience Management (DEM) is the process of being proactive in ensuring that your customers receive their orders on time and how they expect. It also involves taking action as required to correct delivery issues and constantly engaging customers in the post-purchase phase to validate brand promises.
Organizationally Delivery Experience Management (DEM) sits at the very intersection of onsite customer experience, post-purchase customer experience, and order fulfillment.  
DEM is all about offering each of your customers a memorable post-purchase experience that not merely satisfies but also delights and makes them advocates of your brand. 
But why does your e-commerce business in particular need DEM?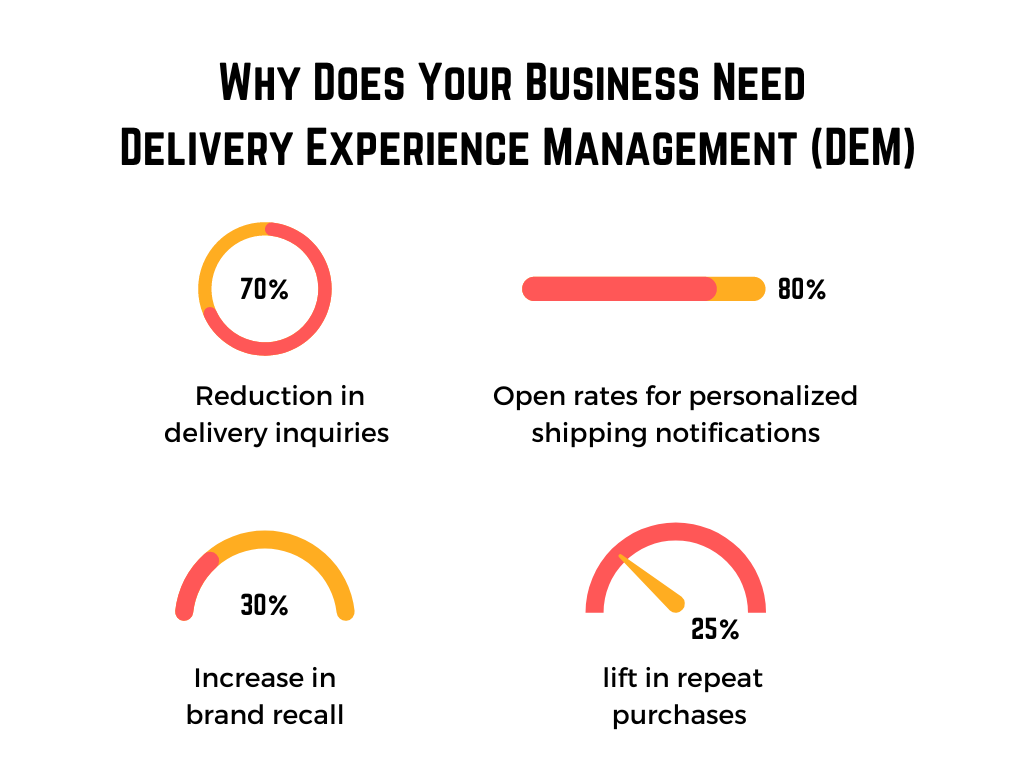 Why Does Your Business Need Delivery Experience Management (DEM)
DEM, still largely untapped, is sure to provide you a competitive advantage and allow your hitherto unprecedented control over your post-purchase phase. Here are only a few reasons why your business needs DEM:
Resolve critical shipping incidents before they happen with real-time updates – leads to

70% reduction in delivery inquiries 

Strengthen customer relationships by keeping your customers informed of their orders –

open rates are around 80%

for personalized email and SMS notifications

Leverage tracking moments to increase brand awareness – 

30% increase in brand recall

Decode customer sentiment and engagement to provide a positive delivery experience –

25% lift in repeat purchases

 
DEM is chock-a-block filled with aspects, if I may, that can help you craft the perfect delivery experience and drive customer delight. Let's take a deeper look at tools for a complete understanding on DEM.