The Importance of an Optimized Checkout Page
While a checkout page seems trivial in the grand scheme of things, they indeed play a bigger role than expected when it comes to helping you boost conversions. 
Wondering how?
Consider this scenario: a customer walks into a brick and mortar store, picks the items they need, proceeds to the billing counter to checkout but finds the process complicated or inefficient. They're probably going to complain about it and in the worst case, drop their purchase and never return.  
The same scenario can happen to a customer who is shopping at your e-commerce store. As an e-commerce merchant, you don't want a potential customer to quit half-way through a purchase. It is in the best interest of your business to make the checkout process simple for users so that they become happy customers. 
Research from Baymard Institute shows that 69.99% of online shopping carts are abandoned. If you take a deeper look and analyze the reasons behind these abandonment rates, you'll be able to see that 7 out of 11 cart abandonment incidents are due to checkout-related reasons. 
Thus, optimizing your e-commerce store's existing checkout practices and increasing sales is paramount. Let's start with the guidelines that you need to follow, if you're looking to create a great checkout page. 
Best Checkout Page Practices That E-commerce Businesses Must Follow to Boost Conversions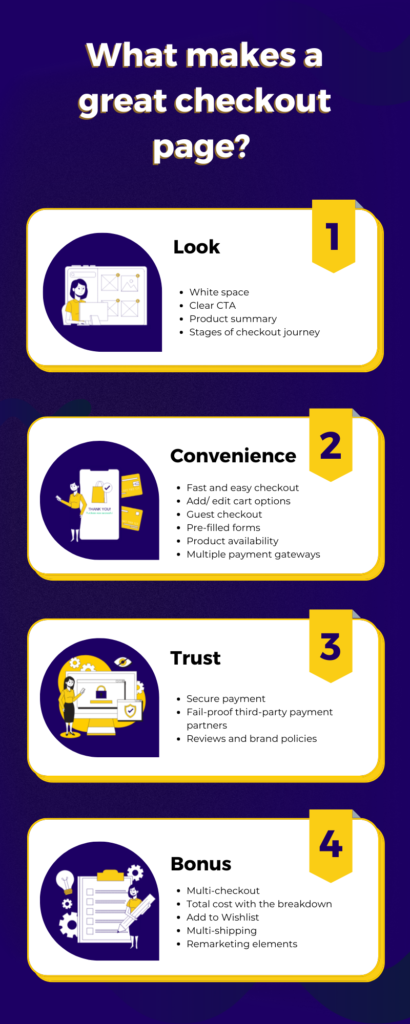 1. Optimize the look of your checkout page
The design and appearance of your checkout pages must be the first priority in your list, as it is the first thing the shopper would take a look at as they proceed to checkout their cart. Here are multiple smaller goals you can achieve to adhere to the User Interface (UI) guidelines of checkout pages.
1.1 Leave a lot of white space – Checkout pages that are cluttered can result in misclicks and frequent distractions. Thus, leave out a lot of 'white' space with balanced elements. 
1.2 Have a clear CTA –  A checkout page is no good if there's no proper destination to take the shopper to. In such cases, you can display call-to-action buttons in contrasting colors to avoid confusing the user and help them make better decisions. 
1.3 Display product summary – Provide a product summary with size, color, and other specifications, to give the user clear information regarding their order. This allows them to re-check their orders and make appropriate changes , if required. You can also extend providing summary to the other steps in the checkout process in terms of product price, payment method, shipping options, etc.