No more talking about this year's holiday season in the future sense. It's already up and running. Your fellow e-commerce businesses, shipping carriers, third-party logistic partners, etc have all geared up to handle the peak season's shipping volume without succumbing to delivery issues and negative customer experiences. 
But just because the times are busy doesn't mean we run helter-skelter till the peak returns season in January. You can still work on your strategies to make improvements for last-minute shoppers. 
We have compiled as much as peak season trends and metrics to help you make data-backed decisions to optimize your post-purchase during the critical Holiday season and beyond. 
Here's a sneak peek of what you'll be seeing in this article. 
Peak season trends by the numbers

 

Forecast of peak season carrier performance rates 

Frequent issues that e-commerce businesses might face during the peak season 

Strategies to ensure post-purchase success 
Without further ado, let's get into things.
Peak Season Trends by the Numbers
We'll start with the most important trend that is pretty much going to be a first for the peak delivery season in a while. Experts are predicting a lower shipping volume compared to the last two years, thanks to the pandemic-induced e-commerce boom slowing down and customers navigating high inflation. 
Despite inflation and other concerns, e-commerce is projected to grow, at a slower rate of 6-8% YoY  compared to 18% in the year before.  
Also, it is expected that peak sales will happen only later in the holiday season this year with shoppers hoping to take advantage of discounts. Major brands too have anticipated such trends and are pushing early sales with lucrative deals. Amazon launched a second Prime Day, and stores like Target and Walmart followed suit with early fall holiday deals. 
Also, major retailers are expected to take extraordinary measures to tackle stockpiling by maximizing discounts in the month of December which will result in Holiday sales peaking a little bit later.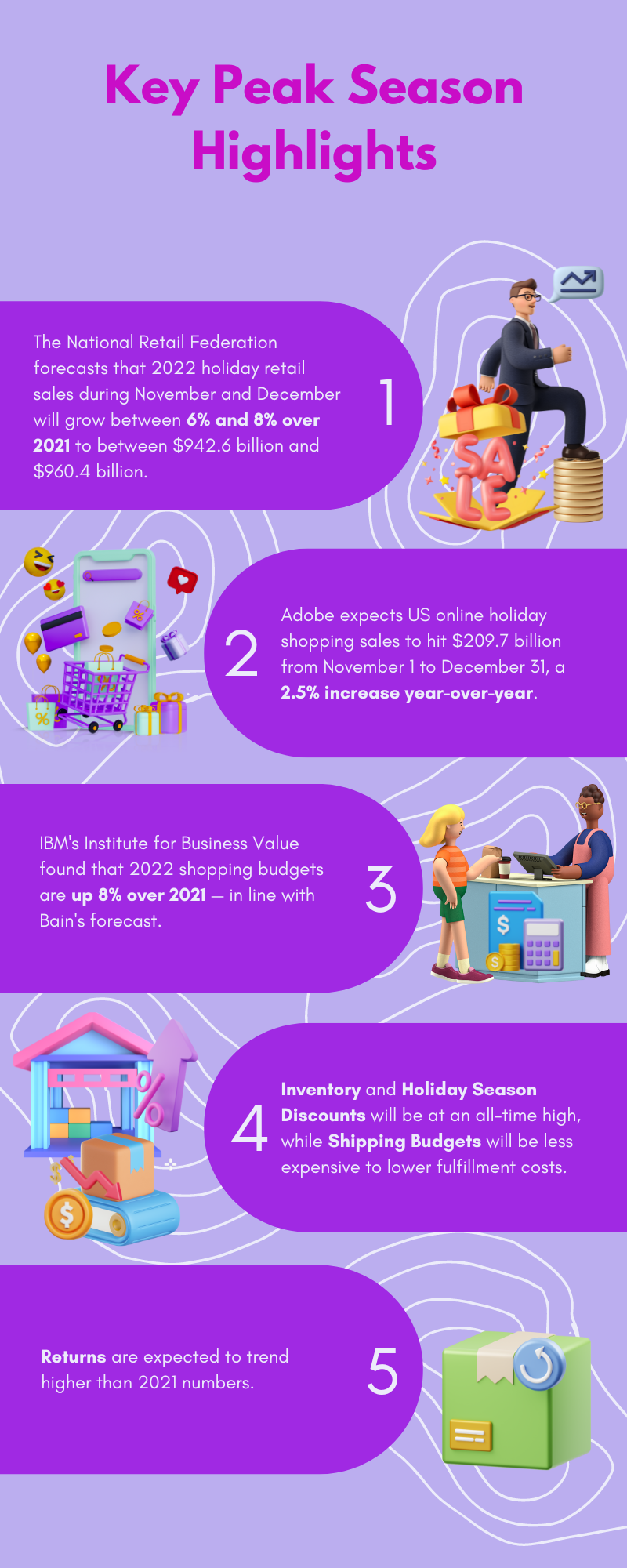 Happy sales numbers aside, there seems to be some doom and gloom, i.e new challenges for e-commerce shippers in the form of the supply chain, inventory, and fulfillment issues.
Despite the possibility of a lower shipping volume, record high shipping costs, shipping network congestion, and labor shortage will affect the 2022 Holiday Season. This can in turn hurt the operational efficiency of shipping carriers. 
But shipping carriers would've taken proactive measures to stay ahead of these challenges or have they?
Forecast of Peak Season Carrier Performance Rates
Major carriers like UPS and FedEx are aware of the incoming peak season shipping volume and have taken appropriate measures to counter them.