Did you know that over 50 million parcels are shipped in the U.S. each day? 
But not all of these parcels successfully make their way to their destination. Studies show that 1-in-5 parcels are lost, damaged, or stolen in transit.
Large businesses that ship out thousands of parcels can both afford the costs of these issues and have systems in place to recover such costs. 
But what about SMBs? 
Despite shipping just a tenth of what they do, these frequent issues can be expensive and damaging. 
In case you're an SMB owner worried about the probability of such issues and their impact, you can try your hands at buying shipping insurance to help you cover such costs.
A Look into Shipping Insurance
In simple terms, Shipping insurance is an agreement mainly between the shipper and the carrier, where the latter offers to cover losses, in case the parcel gets lost or damaged in transit. Shipping insurance has proven to be an essential part of small parcel shippers, as it helps them recover any unfortunate losses on a parcel that they shipped via the carrier. 
Shipping carriers, on their part, consider insurance as a contingency plan to take onus for damages, which happen mostly due to inappropriate handling and avoid losing customers for such incidents. 
While that's to scratch the surface, while talking in-depth, shipping insurance is a much-needed aspect of small parcel shippers. Here's how.
The Importance of Shipping Insurance
1. It is easy to get yet an invaluable asset for your business
Since insurance is added per package, it is actually easy as paying an additional fee to your shipping costs and can be done with minimal to low paperwork. Despite being easy to get, shipping insurance must not be considered trivial, as it has multiple pros for your business. 
With insurance, your business has a backup both against damages as well as losses they bring. On the customer front, compensating them when faced with issues helps in restoring both lost customer satisfaction and brand reputation.
2. It offers steady peace of mind
In your business' daily operations, the last thing you want to worry about is the potential for significant loss due to damage or shortage.
Investing in shipping insurance based on your thorough understanding of carrier and third-party options as well as the importance of documentation will help you get the most out of your insurance plan, giving you peace of mind in your shipping procedures.
All carriers offer their own unique policies for shipping insurance, covering some small shipments at no extra charge or excluding some types of freight from any coverage at all. To help you make better choices, we have covered an overview of insurance rates from shipping carriers.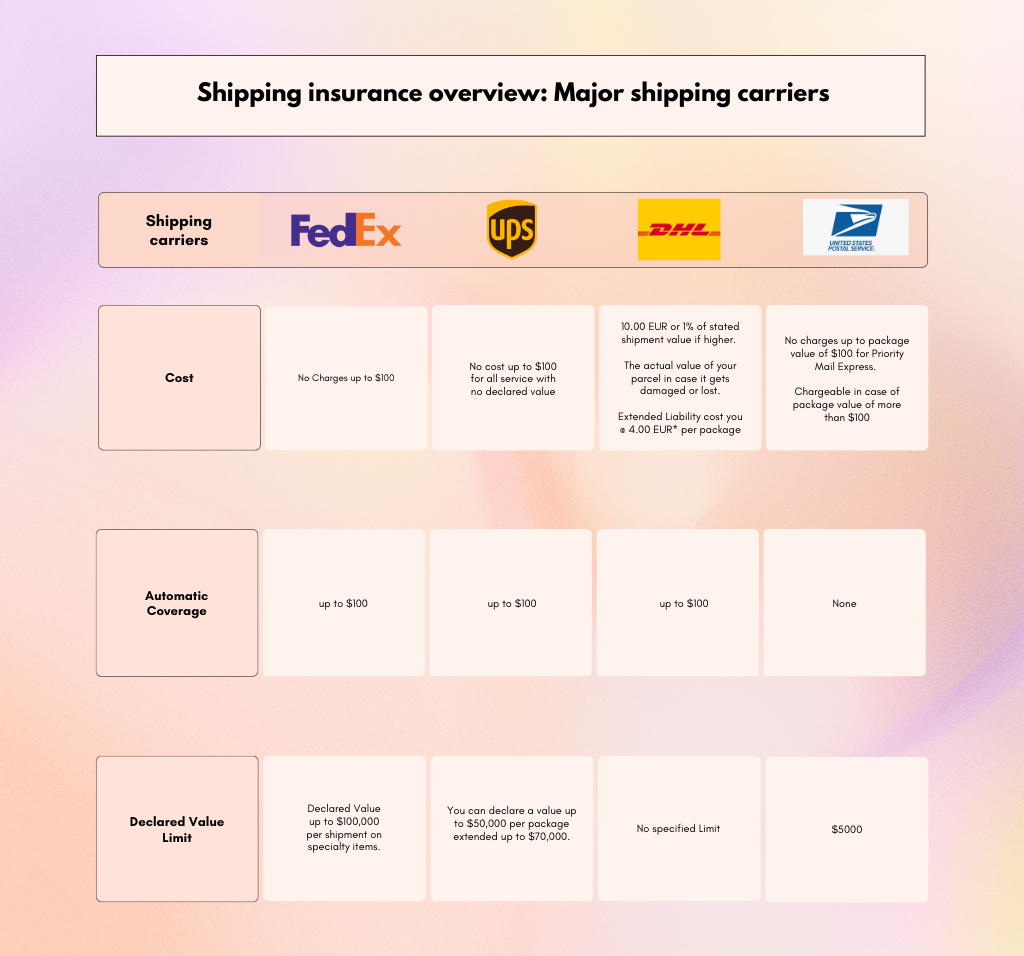 Notably, FedEx, UPS, and DHL all automatically cover shipments up to $100 in value at no additional cost to the shipper. USPS does not offer the same level of automatic coverage. Additionally, all but DHL declare a maximum value that their insurance is able to cover. 
Not just from carriers, shippers also have the option of taking up insurance with third-party insurance providers at hand. Many solutions that help small shippers take care of their shipping such as Shopify, Easyship, Pitney Bowes, etc., and dedicated insurance service providers such as U-pic, Shipsurance, etc, can help you with your insurance needs. 
Now that we're aware of the what, the why, and the where, let's move on to how you can get the best out of shipping insurance.
How to Get the Most out of Shipping Insurance
1. Understand what's usually covered in parcel insurance
Beyond general guidelines from insurance providers, it is important to understand that there are some exceptions to what is and isn't covered by them. 
For instance, major carriers such UPS, FedEx, and USPS do not insure precious stones or coins. Also, the maximum declared value for a lot of items including artworks, antiques, highly fragile items, dangerous goods, etc. are lesser compared to traditional items with most carriers. 
Thus, in your effort to understand what is covered by the major carriers, it'll be helpful to review similar freight exclusions that may limit your return on investing in shipping insurance.
2. Strengthen claims with documentation
Insurance claims are much easier to fill out with documentation. Properly documenting loss or damage will make for a faster, smoother, and easier claims process.
To clarify and strengthen your claim, take notes and photographs of the freight to prove that it was damaged or otherwise compromised in transport. Most importantly, holding onto documents like the original bill of lading, a paid freight invoice, and a packing slip will be helpful in allowing you to identify and file claims. 
When there is a concealed damage or shortage that's discovered after the proof of delivery is signed, it can often be more difficult to get your full claim back.  Thus, it's essential to thoroughly examine incoming shipments for quality and document anything that may seem out of order before signing for the delivery. 
Documentation is critical because it's the way your company can prove loss, damage, or shortages in the insurance process. Leverage it strategically for the most success with claims.