When was the last time you celebrated after closing in on a tough negotiation?
The ability to successfully negotiate a contract hinges on several factors. Especially when it comes to negotiating deals with your shipping partner. You need extensive data on their performance stats, the impact they've had on your clientele, and much more.
Besides, if shipping prices hit too high (cue the hikes you see every quarter), you'll have to change product prices to match them. So it makes a huge difference if your negotiation prowess can be put to use.
Here's a checklist that will be of great use when you negotiate contracts with FedEx and UPS.
1. Surcharges
A look at your shipping invoice will give you an idea of how many additional components your shipping bills contain.
You can read more on various surcharges here. In a nutshell, there are several surcharges in your shipping bill. Oversized packages, residential zipcode destinations, fuel hikes and many such aspects attract surcharges. All carriers have their own set of surcharges. Every surcharge added to your shipping bill has its own terms and conditions. So, you need to be in a position to identify surcharges that do not apply and filter them out, when you negotiate with your shipping vendor.
2. Impact of DIM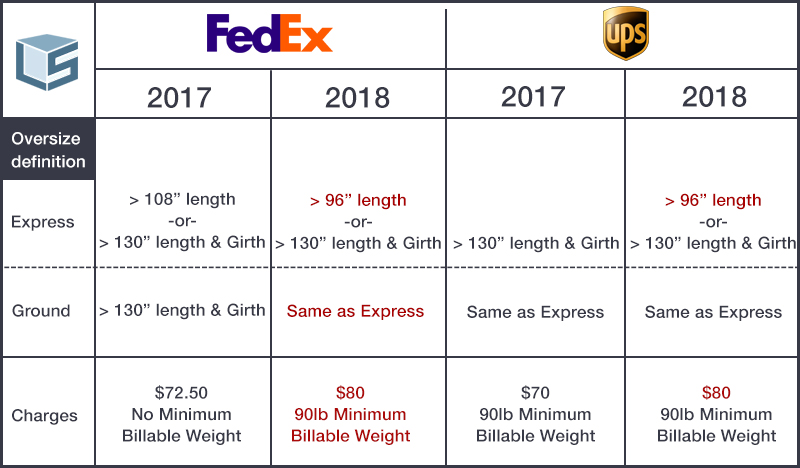 In recent years, both FedEx and UPS have shifted to dimensional weight for billing purposes. Earlier, packages were billed according to their actual weight. According to the new order, the package weight to be billed is determined by the dimensions of the package. This is because the space the package occupies in a container is what counts, logically speaking.
You can save a lot on your shipping bills if your packages can come down in size along with actual weight. This requires a close look at packaging strategy.  If you are packing odd shaped packages, check out how to optimize shipping costs here.
3. Arm yourself with data!
Before you start your negotiations, arm yourself with data on past performance of shipping carriers. Study individual costs and work out a plan to reduce costs, going forward. Make a list of cost components that can be reduced or done away with. Optimize as much as possible and then take the list to your shipping carrier to negotiate on what can be negotiated. When you assemble the data, make sure you have a list of cases where the shipping carrier has failed to perform, as promised.
LateShipment.com is a one stop tool that provides you with all the data you need for this purpose. It can tell you everything about every shipment you have sent across, with data on geographical performance, where it has been delayed, et al. Here's a graph showing geographical representation of delays across specific areas in the US.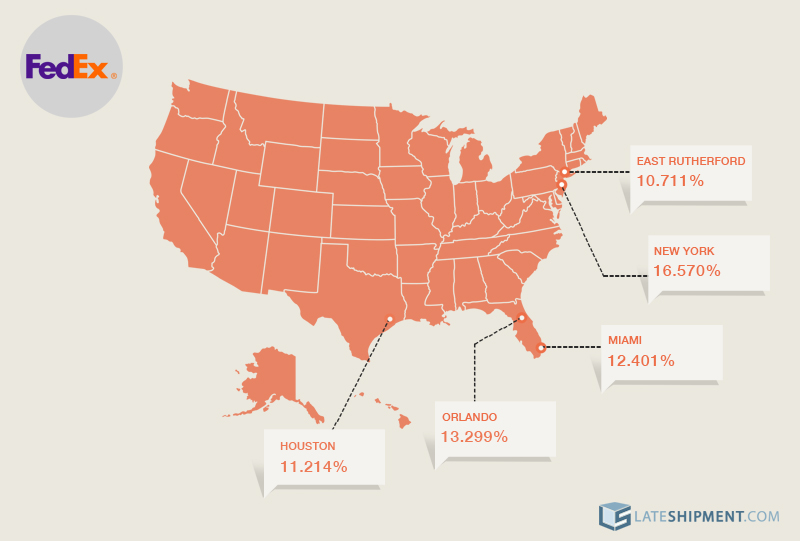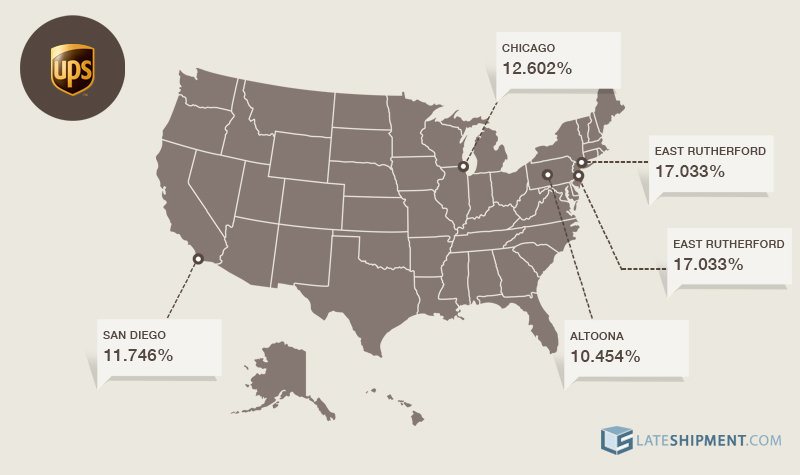 4. Read the fine print
Your shipping vendor gives certain promises to deliver the package on time. Failing which, they have to refund your shipping money. Now, this is stated as a USP in their sites. But what you are blissfully unaware of, when you sign up with the carrier is the fine print. The fine print has dozens of conditions that FedEx and UPS can use to NOT refund your money. Invest time in reading the fine print. A firm grasp of the fine print can give you an edge when you discuss terms during the negotiation.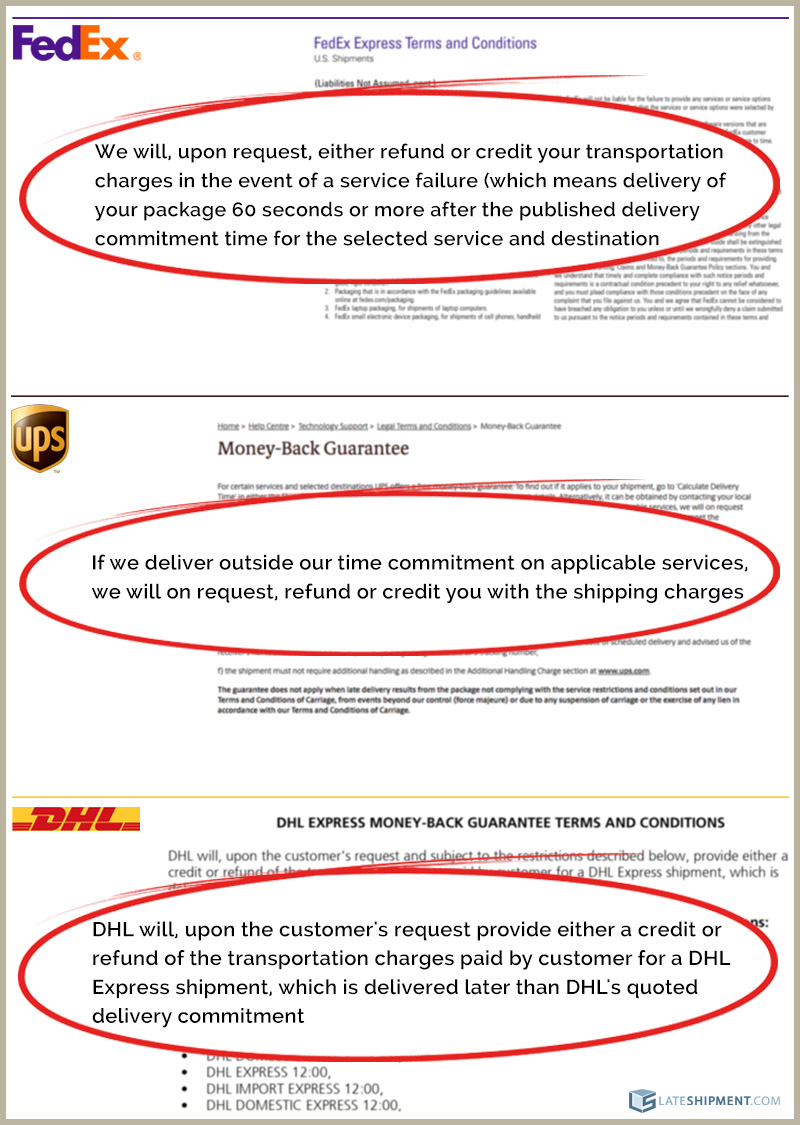 UPS and FedEx offer similar money back guarantees. And the process to retrieve the money in either case is equally circuitous. Despite having an in depth knowledge of everything the fine print entails, you can miss out on refunds if the carrier considers them ineligible. your claim can be revoked on account of season, weather conditions, unexpected delays out of their control and unstable political ambience. 
5. Are you giving up your right to refunds?
Every retailer should ensure that he/ she does not give up the right to refunds through the carrier money back guarantee. No matter how attractive the discount offered may be, holding shipping carriers accountable for their performance by monitoring all your packages and claiming refunds for the ones with delivery exceptions is a must.
As we have seen earlier, you are entitled to a full refund of your shipping bill if the carrier fail to deliver the package in the promised time. This can be a significant savings if done diligently. Bring this up in your negotiations. Also, waiving your money back guarantee for a hefty discount would mean forgoing the ability to hold the carrier accountable for service failures.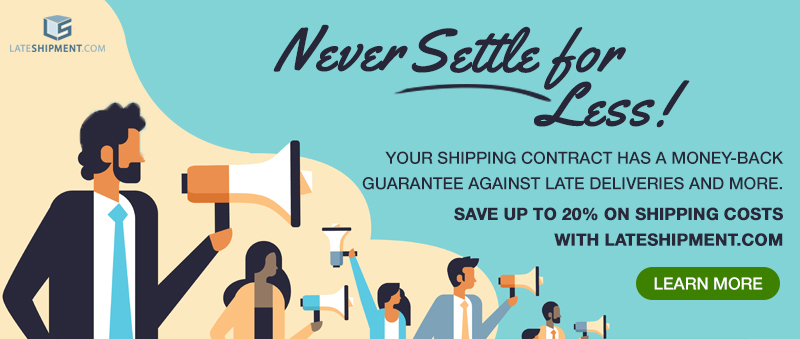 6. Leverage competition
A very critical part of running a business is knowing your competition. Enrol yourself in associations where most of your peers are involved. You would facilitate healthy competition while getting to know what your peers do. This would help you in forming business strategies, and negotiating better discounts with the carrier if you're already aware of the discounts others of the same caliber avail. Using a common forum, you can get to know best practices in the industry and follow what suits you best.
7. Protection against rate spikes
FedEx and UPS are infamous for sudden spikes in their rates with several reasons ranging from seasons to fuel costs. So, it's a good point to bring that up when you negotiate. Ask for protection against such sudden price inflation.
You can read more on the UPS and FedEx recent price hikes here.
This is a regular occurrence. A single rate change in shipping can affect your logistics costs and your bottomline. You certainly need cover against such rate changes.
8. Holiday Shipping Rates
Holiday seasons happen to be the most rush period in eCommerce and shipping. Predictably, shipping rates go up and the money back guarantee also ceases to apply for most shipping service types (if you haven't specifically asked for it during negotiation) during these times. You should make it a point to request for the money back guarantee during holiday season as well.
9. Review the contract  
Periodically, review the contract and try to figure out a middle ground where you and the shipping carrier can benefit from each other. Revisit your contract before renewing it every time.
The period for these reviews is something you need to take a call on. It could be monthly, quarterly or half yearly, based on factors like
The number of packages you send
The number of times your carrier changes rates and how you get impacted
And, whatever your reviews tell you!
10. Multiple carrier negotiations
Do not stick to a single shipping carrier at any point of time. if you negotiate with FedEx and UPS at the same time, you leverage competition against each other and you benefit from better rates. Also, you can choose the best performer for each type of delivery and use that effectively.
During negotiations, you can bring this up and note differences in carrier performance.
Here's a bonus point for you.
11. Maintain good relationships
It is very important to maintain good relationships with your carrier representative. These are people who can help with your negotiations. You would be making it easier for them if you could hold your end of a civil business relationship.
Like with every other relationship, business and otherwise, your interpersonal skills will help you get better deals and make your business running easier. This can even help you get access to association rates that only the representative can work out. So a good working rapport will reward you with better pricing and access to offers and schemes.
And that's your checklist for successful negotiations with FedEx and UPS representatives. The smartest path to take would be to sign up with a service like LateShipment,com to obtain data to help you with negotiations. You can make use of this data to stay ahead of competitors this holiday season.