Instagram: the new souq in the digital town!
Celebrities who are at the pinnacle of their careers usually receive much acclaimed endorsement deals from huge brands. We've seen Daniel Craig sip a Heineken in three movies straight, Michelle Wie model Nike products, and Usain Bolt experiment with different Puma shoes since he was a teenager. The difference today is that most celebrities choose to create and promote their own brands instead of going in for commercial endorsements for existing brands.
This has led to the rise of various new brands with excellent PR and Marketing teams behind them. The greatest tool used by these celebrity brand owners is social media. They use these accounts to turn their fans into buyers! Instagram is perhaps the most used platform for these promotional activities.
Apart from celebrities and their instagram accounts, there are also instagram influencers. These are people who are followed heavily not because of their celebrity status but because of their expertise in their domains. Celebrities liaise with these influencers to spread the word on their brands.
Let us look at 5 uber successful celebrity brands slaying the market with their Instagram strategies:
Kylie Jenner and Kylie Cosmetics
Kylie Jenner is 21 years old and is all set to become the youngest self-made billionaire. She has over 250 million social media followers and an affordable line of cosmetics, targeted at young instagram followers. Her marketing success has made it to Forbes. What is it that works for Kylie Jenner and Kylie Cosmetics?
Her products are built to appeal to her target audience. She knows her audience and she speaks to her Instagram and Snapchat followers like she would be speaking with her friends and family. Digital marketing researchers have numbers to bolster their claims that Instagram is the platform for brand discoverability, Youtube is for shopping recommendations and Snapchat is for documenting shopping experiences. Kylie focuses on all three platforms. She plays around pop culture when she presents stories. 'On Wednesday Matte Lip Kit' is a reference to the popular Mean Girls, for example. There is a certain fluidity between her daily life and her brand promotion. This causes the overlap between her fans and customers. She is, end of day, a celebrity and fans want to know what she does during the course of her day. So, along with her personal photos and videos, she includes her merchandise.
Her pure marketing strategies show behind-the-scenes aspects of her products. Fans get to see the factories where the cosmetics are made. She promotes new collection launches with flash sales. Her insta feeds include her celebrity family and she taps into the potential of instagram influencers like MakeupShayla and Nicol Concilio for that much needed validation. Her photos and parts of her promo videos and stories have cosmetic swatches on various skin tones. This works in her favour.
But the most important Instagram marketing strategy is the celebrity selfie!
Here is something as simple as what you and I would post: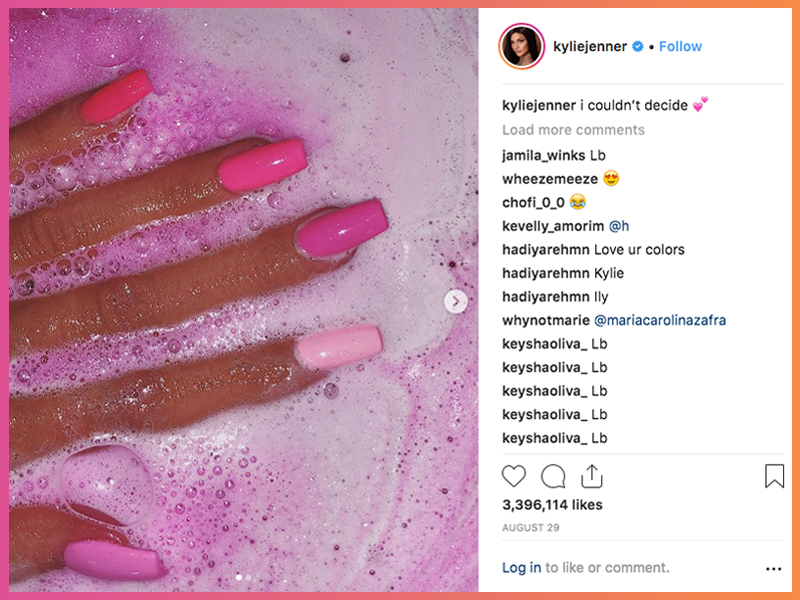 Kylie maintains a girl-next-door image on social media and that works. This post is from her personal account. And she makes it a point to promote @kyliecosmetics from her personal posts as well! She's one of the most well paid influencers on social media today with each of her Instagram posts valued to be a million dollars.
Jessica Alba (The Honest Company)
Jessica Alba is the founder of the billion dollar worth 'The Honest Company' and her motto is ethical consumerism. She has a range of safe baby products from detergents to diapers.
Jessica is a seasoned social media marketer and she touches upon the safe, organic and momma-baby and family chords just the right number of times in her insta posts. Her stories are an instant connect with fellow mums, with gym work out posts and baby milestone celebrations. There are witty quotes that can come from any frustrated mum who cannot find time away from gazillion diaper changes. Now, remember that mothers, the largest part of Jessica Alba's clientele spend a lot of time scrolling through social media posts when they are feeding their babies or doing household work. And between these posts and videos and stories, there is also product promotion. Jessica's personal background stories about her own childhood issues of allergies caused by factory made products and her inspiration to create a brand of safe products comes up now and then.
True to the name of her company, she keeps her pictures honest! She posts pictures of her kids and when there's troubling feedback, she gets to ground zero and offers her defense.
She doesn't miss a chance to leverage a trending hashtag to her advantage. Here's an article mentioning a post from Jessica Alba where she cashes in on the royal wedding: https://www.dailymail.co.uk/news/article-5749407/Jessica-Alba-gushes-Honest-Companys-chief-color-consultant-did-Meghans-makeup.html
Lisa Vanderpump (Vanderpump pets)
Instagram is a visual medium. And there are two photogenic things that can make everyone go Awww. One, Babies. That is taken by Jessica Alba who is slaying the baby market on Insta. Two, dogs. Lisa Vanderpump has capitalised on that Awww factor as is evident from her Instagram feed. Most of her photographs and videos are of cute pups and dogs. The video of a pup lazing in a dog spa can bring a smile even on a cynic's face. Now, Vanderpump Pets has a dedicated Instagram page that offers neat categories on grooming, retail and such. Her feed captures real people with their real dogs and strikes an instant connect with followers.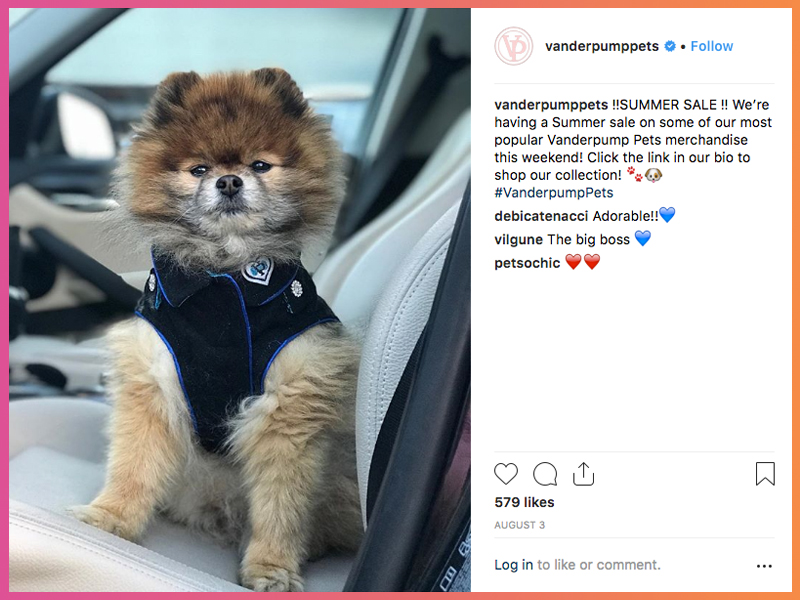 Rihanna (Fenty Beauty)
And that is what matters in the Instagram marketing space. Within 4 days of its Instagram launch, the handle had 1.4 million followers. What does Rihanna do differently? When Rihanna says her brand makes cosmetics for 40 skin shades, she says that with a mosaic of women from various races. She markets her products with influencers of all races and that is a huge advantage. Rihanna's greatest USP is her inclusivity.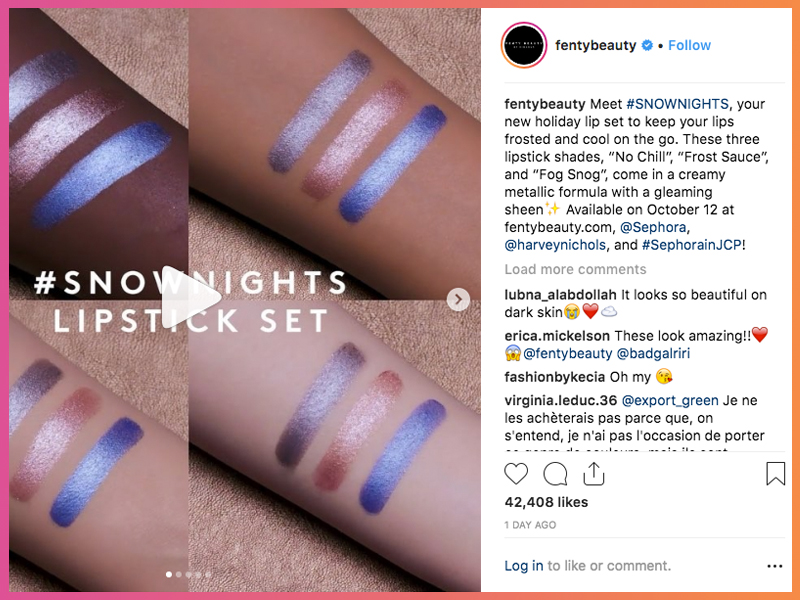 It's 2018 and we are still grappling with finding nude shades of lipsticks and perfect foundations for the non-Caucasian skin tones. And this is what Rihanna addresses on her instagram feeds. Representation from all skin tones also includes real people on streets, not just models. Most beauty brands have a 1% fan engagement while Fenty Beauty's Instagram account was able to reach 10.41% fan engagement. It generated almost 80K influential posts within the first month. Such is the reach that Rihanna's Fenty Beauty has.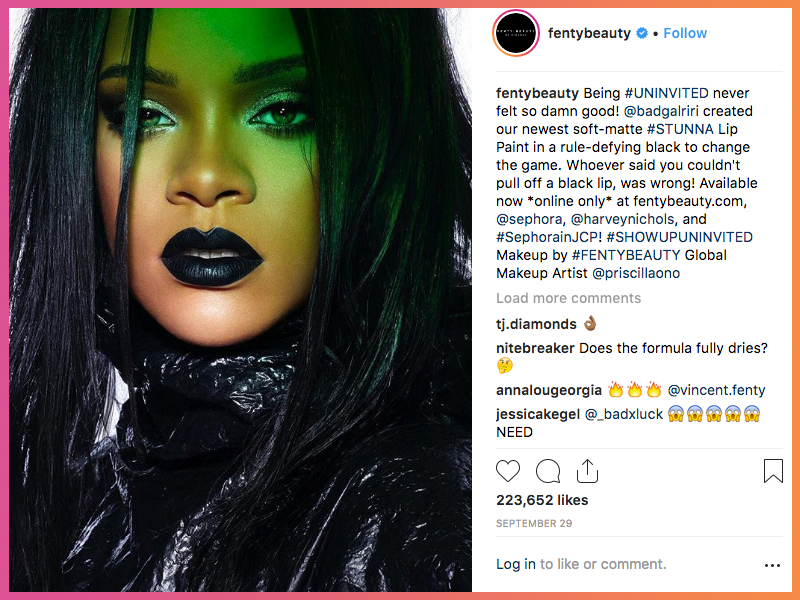 Rihanna's marketing strategies are time tested and text book. But they work! She is very regular with her posts and that is of primary importance. What sets her apart is that she engages with her fans. She follows them back on Instagram. Imagine Rihanna on your list of 'followers'!
Sarah Jessica Parker (SJP Collection)
It is no surprise that Carrie Bradshaw helps other shop. Sarah Jessica Parker, best known for her role as Carrie Bradshaw in Sex and the City, leverages her popularity to the maximum possible extent. Her Manolo Blahnik shoe loving character struck a chord with many, many women back in the SATC days. And she has progressed to selling shows under her SJP Collection via Instagram. Her feed is all about shoes. She includes several public figures and fashionistas to feature in her photos. Parker says that she collects customer sentiment, expectation and feedback from Instagram to her design in an attempt to address customer issues and give them what they expect. She says, '"I think it's really good for business, to feel that the business is always being scrutinized by a very informed consumer, an educated consumer," said Parker. "The higher the expectations, the better for us. The customer is such a huge part of the business. It's very different from what I feel the retail experience used to be, where you create something and you offer it up and there were expectations that therefore you will buy it. Now consumers are part of the design process and you're constantly considering what they need, what they want. Without that exchange, I feel you're left with no business."'
"What do you have to offer that is uniquely your product? "There's so much out there in the world. Nobody needs just another pair of shoes or just any bag. Why does this thing you're offering demand time, attention and dollars from your community?" – Sarah Jessica Parker
Look at this Instagram post of SJP that has garnered 65000 likes!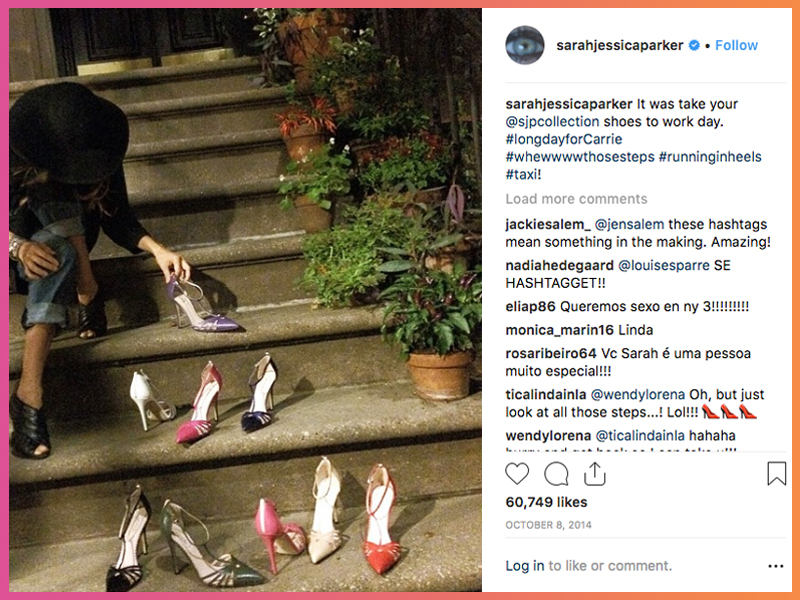 One of her most successful, viral posts for SJP, this post has a shot of Parker lining her shoes on the steps of the iconic, unforgettable house that Carrie Bradshaw occupied in Sex and the City. It strikes an instant chord with her followers. Most of marketing is not about selling but about managing a connect with the audience. And this has worked wonderfully as an instagram marketing strategy.
Not to be left behind, there are several non-celebrity brands as well that are doing a great job on Instagram. I've listed a few of them here.
Bloom & Wild
One of the most successful online florists, Bloom & Wild is a brand that is on top of the instagram marketing game. Of course, the business lends itself to powerful photo based marketing. What is more picture friendly than flowers?!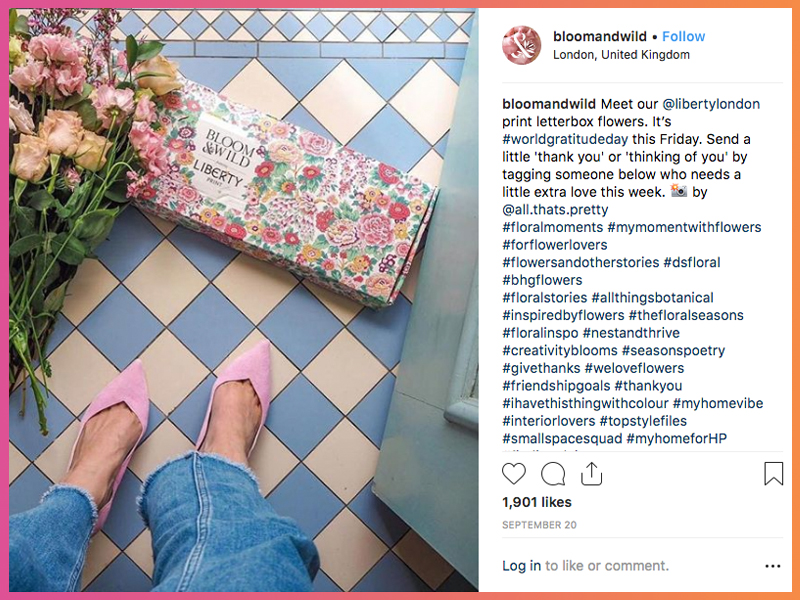 And whenever Mothers' Day or Valentine's Day is around the corner, the marketing team at Bloom & Wild brings about some really interesting game changing tactics that everyone should learn. Even on normal days, when it's not a season that flaunts flowers, it is normal to see the company's instagram handle update its pictures regularly. And during festive times, they run contests and dish out spa vouchers and flowers. The move sure works, every time!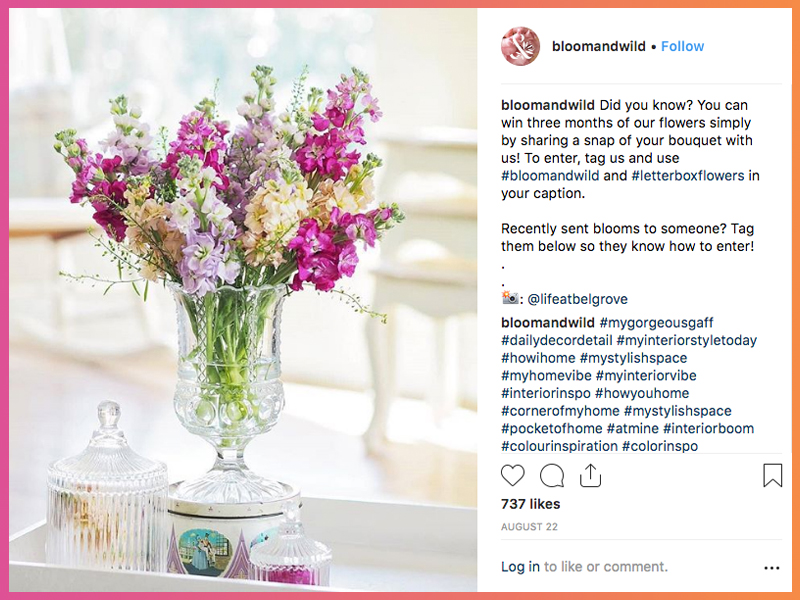 They run marketing themes that also remind people that Mother's Day (or any other occasion) is right around the corner. And they keep reminding people enough!
Poshmark
Poshmark, the online community that serves as a forum to let people buy and sell fashion goodies, aces the Insta Game. It is one of the early adopters of Instagram and they clearly have an edge now!
Amanda Weiss, Marketing Manager at Poshmark, says "Poshmark has almost 80,000 followers right now on Instagram and our most popular hashtag, #PoshStyle, where women share outfits they've scored on the app, has been tagged in over 55,000 photos. Instagram has been a huge driver for us to bring community members back into the app while also allowing new users to discover the magic of Poshmark, making it a very valuable tool for the company."
They have leveraged the hashtag functionality to the maximum, clearly.
Poshmark constantly evolves and updates itself with the latest trends. Here is a post where the brand encourages customers to put up pictures of their purchase!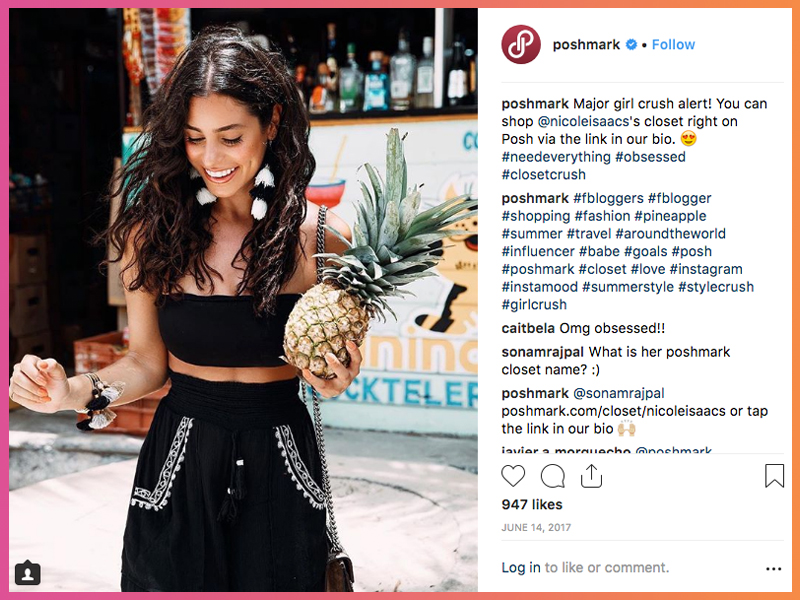 Burt's Bees
There is much to do with apiaries and selling apiary produce, proves Burt's Bees!
To celebrate its 30th birthday, Burt's Bees hosted a global Beeday event and engaged its entire online community to take part. Happy Beeday was the buzz for a while. It is vitally important to note here that Burt Shavitz, the founder of Burt's Bees lives in the country, without internet!
Like other successful brands, Burt's Bees focuses on real users of their brand and posts pictures engaging these normal users. You will find a lot less celebrity endorsement for the brand, on Instagram. But what amazes you is the onslaught of everyday users and their happy faces! They also get users excited with different organic blends depending on customer feedback and expectations.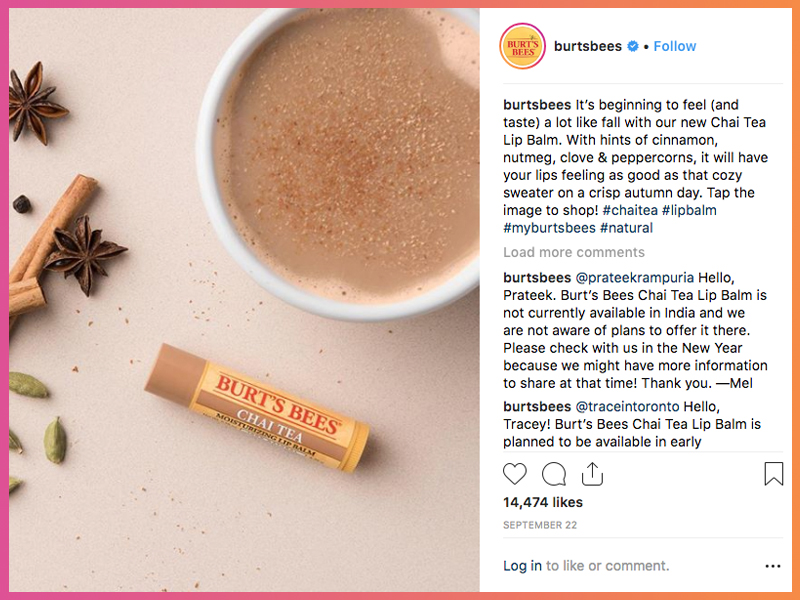 Ipsy
It is no surprise to see Michelle Phan instagramming her way to success. Phan is one of the most well-known beauty and makeup related social media influencers today. She is a household name and people run to her instagram videos for makeup and beauty recommendations. In her marketing campaigns, she keeps things real. For example, she never forgets her Viet roots and her struggles. She has not just her videos, but videos of several vloggers and influencers conglomerating under Ipsy to recommend, sell and market!
What does Ipsy do differently? They work on their referral program and never let followers forget the referral program.  People refer others and gain points that they can redeem! And friends don't really turn on you for referring when it comes to beauty!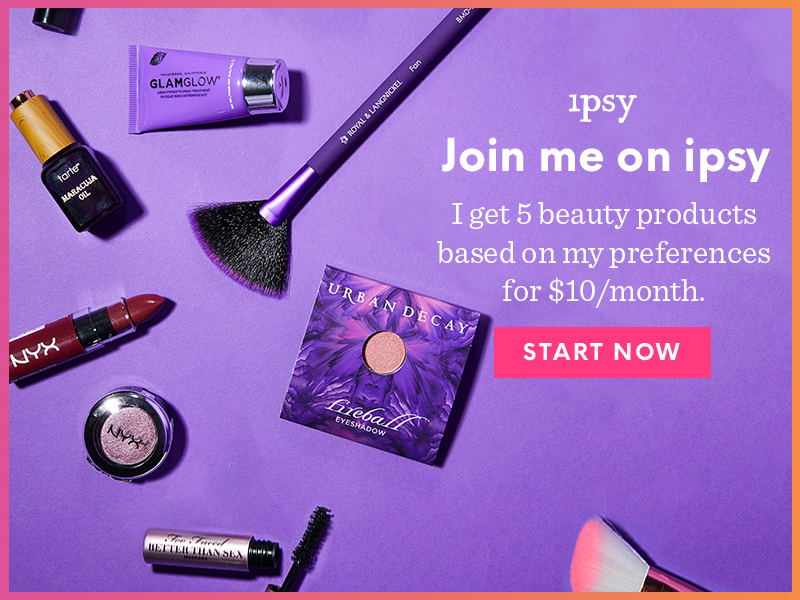 Chubbies
You have a lot of marketing scope, especially the cheeky kind, when you name your brand Chubbies and sell shorts!
The brand caters to a wide audience. You see family audience, soccer families, father and son bonding with their shorts on. Think outside the shorts, says Chubbies.