It's normal that when you're sending a lot of customer service emails to your clients, you might occasionally make a blunder like forgetting an attachment or addressing someone the wrong way.
Here's a checklist for you to ensure you're writing great customer service emails and avoiding gaffes.
1. Use the customer's name
You should be calling your customers by their name. If you don't know a customer's name, go with something friendly and semi-formal, which sets a good, calm tone to start. 
By using a person's name, you're already making the customer service email more personal and friendly. There's nothing more discouraging than feeling like you're just a number and not valued. 
There's nothing wrong with relying on templates, but when you do, use software that allows you to personalize emails. 
It's good customer service email practice to summarize the issue and make sure there are no misunderstandings.
Don't hesitate to ask for confirmation that you understood what the customer was asking for, especially if you're dealing with a case that's complex or difficult. 
If you're speaking to a customer for the first time in a while, there's no harm in summarizing where things are at now. This avoids any miscommunications later on.
Once you've summarized the issue, you need to get to the point of the customer service email. 
You should use tools to make your response easy to understand, unless it's a very simple and clear answer. These tools include step-by-step guides, examples, and screenshots, or whatever other instructional materials you have. 
 "You should be giving your answer in a way that's easy to understand and directly addresses the customer's question. If you don't know the answer, don't ignore it. Make sure to look into it and let them know you're doing so. Indicate the time frame for a follow up if one is necessary." 

– Joanne Ridley, communications manager at Australianhelp and Oxessays.
Your customer service emails should have the right tone depending on the customer and your typical audience.
A formal tone is a safe bet, but it comes at the risk of not sounding like a person, or even coming across as robotic. 
Informal is a bit riskier, but comes with a greater reward. While informal replies can sound personalized and friendlier, some customers might not appreciate them or feel like they're not being treated seriously. 
If you work in a formal industry, then a formal reply is the best way to go, whereas the opposite is true if you work in a more informal setting.
Regardless, if you go with informal, be cautious of not overdoing it. Try to read between the lines of the customer's email to see if they're being formal.
Using complex language or jargon in your customer service emails won't get you very far. Instead, you'll be creating more frustration and confusion on the part of the customer.
Be simple and give clear explanations that won't require follow-ups or clarifications on their part. 
If you have no choice but to use a complex term, use it, and then explain it in layman's terms. If a customer has emailed you using complex terms, then you can use those same terms in your explanation, while still keeping your overall tone simple.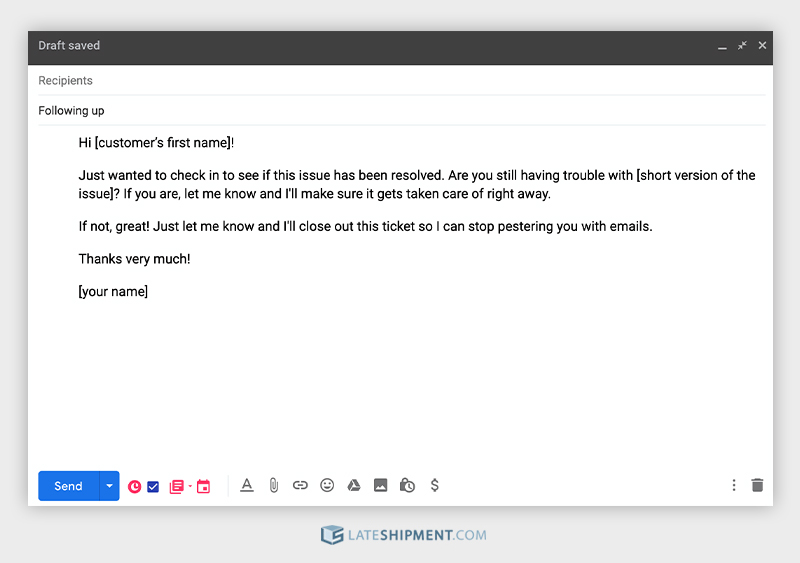 6. Automate whenever possible
You can still provide personalization in automated emails. The key is getting as much information about your customers as possible to tailor each email to the point that the recipient isn't sure if it's automated or not. 
Use a service like LateShipment.com to send automated emails to your customers regarding their order status and keep them constantly notified of their delivery to prevent customer angst. 
The last step before pressing send is reviewing the whole email for blunders and typos. 
Make sure you use spell check, check all the links you've included, and if you're mentioning any attachments, make sure you've attached them.
These steps are great to go through before sending customer service emails, because you want to make sure you're professional but also friendly. By following this checklist, you're leaving nothing to chance or human error and maximizing your chances of success.
---
This article is a contribution by Molly Crockett
A marketing writer at UK Writings and Academized, Molly Crockett is involved in digital media marketing and customer service strategy projects. She teaches seminars and instructional guides for new businesses about how to be better at customer service. Her writing is also available at Essay Roo.
---
How LateShipment.com Can Help
As a customer-support representative, how often have you wanted to keep your customers informed of parcel status so that they don't need to constantly go to the shipping carrier's website to check delivery status?
The solution is right here. LateShipment.com helps you set up automated email and SMS notifications that are triggered and sent to customers when their parcels reach specific events during the shipping process.
We provide you with the ability to send timely notifications to your customers about their orders for last-mile events such as "Shipped", "Attempted", and "Delivered".
You can also provide a tracking link along with the mail to ease their anxiety and keep them in the know of their parcel's whereabouts.
All you need to do to enjoy this feature is to connect your eCommerce store or CRM platform to our interface, and relevant customer data will be populated within our interface.
At LateShipment.com, our focus has remained steadfastly on the last mile, typically the part of the logistics chain that is the most opaque.
The best part is, it takes less than 2 minutes to see LateShipment.com in action.
COVID-19 Note: To help tide over the current crisis, we are giving all businesses full and free access to our Delivery Experience Management Platform till June 30, 2020.
The value we add to businesses is most evident when experienced first-hand.