Our world is undergoing a significant transformation. Recently, millions of people throughout the world took to the streets to demand stricter climate regulations, causing tectonic shifts in both governments' and businesses' perspectives on sustainability.
The concept of sustainability branding has sparked an interest among consumers. Sustainability is a subject that will be around for a while, and its significance is also increasing, so let's go into what sustainable branding is, why it is becoming more important, and how to include sustainability into the brands you create. First, what does sustainability mean for a brand?  
The practice of focusing on and incorporating recognised environmental, economic, and social issues into a business' operations is called sustainability branding. These sustainability initiatives today include developing, sustaining and presenting a brand that gives sustainability benefits to both consumers and the environment. In today's world, consumers are more aware of what's happening and which companies are causing environmental harm. Sustainable, mindful businesses are leading the movement to break this cycle, satisfy this growing need and fulfill the growing appetite for those customers.
Why is sustainability branding important?
Finding practical solutions to the global environmental, economic, and social problems is a concern that people have greater than ever. Today's consumers demand brands to become more sustainable in their business operations, and only those brands that embrace these ideas will have a long-term impact. More eco-friendly firms are developing that prioritize the needs of the earth over profits. Since consumer purchasing patterns are changing, customers are increasingly pressing corporations to do more to protect the environment. 
Here are some important stats that you should consider ….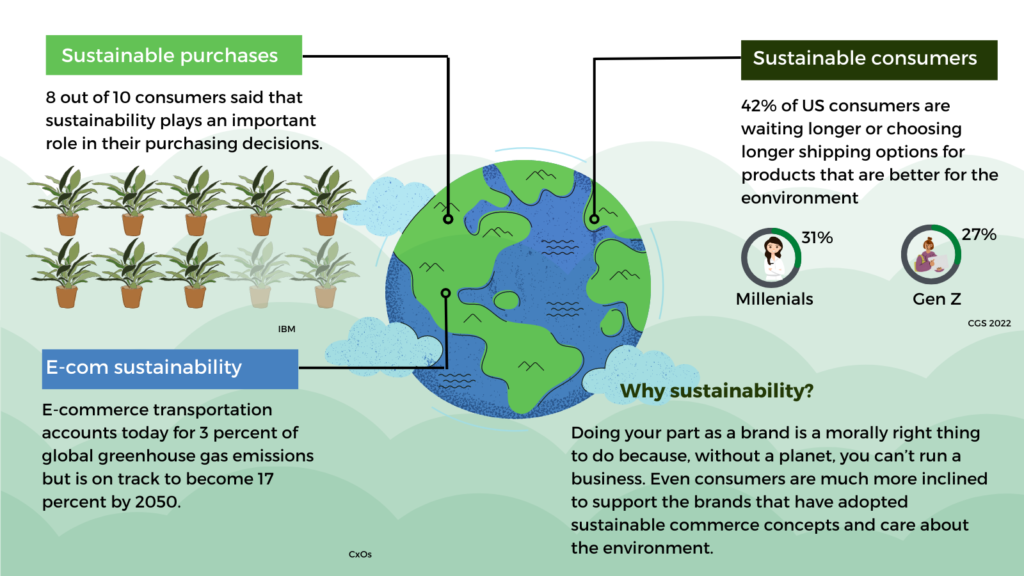 The purchasing patterns of consumers are evolving
Most of us like to assume that we would put our money where our mouth is, and this is the situation with consumers and sustainability. Consumers today look for goods and services that help address issues they care about, including using renewable energy and buying environmentally friendly goods. 
But it is not enough for a business to merely support sustainability.  You must effectively convey your dedication to tackling climate change and other environmental problems.  Companies that are proactive in their communication and take a statement on social problems will easily capture the hearts of their customers.
"Saving our planet 🌎 is now a communications challenge." – Sir David Attenborough
Ways to effectively Communicate Your Ecommerce Sustainability Actions
Always tell the truth

Incorporate your sustainability messaging across all your channels

Keep it simple

Leverage eye-catching creatives to spread your message 

Align your sustainability goals with your business purpose