When you ship through DHL, FedEx, UPS, or USPS most packages make it to their destinations intact and on time. But, what about those rare occurrences when packages are lost in transit? Who exactly gets blamed when this happens? The seller or the shipper?
In most cases, it is the retailer who bites the bullet. This is because customers the accountability of the package from checkout to delivery falls on the business they ordered from rather than the shipping carrier, a third party.  
Customers who've lost their packages are often aggrieved and take their grievances to social media and call out your brand. Just like this: 
Hey @amazon thanks for ruining Christmas and losing my brother's Christmas present. What's the point in 2 day shipping if you lose the package?

— Eddie Smedley (@GettinSomeSmed) December 23, 2018
And what exactly happens when posts like this catch the attention of their followers/ your potential customers? 
Your brand reputation takes a huge hit, customer churn rate hits the roof, and staying ahead of competitors becomes next to impossible (Uff 😤)
Worry not!
Here are some tips for retailers on how to handle lost packages, (spoiler alert!) save on shipping costs, and improve customer loyalty.  
Step 1: Determine if the sent packages are really lost
If a package that was en route to a customer goes certifiably missing and has not arrived at their doorstep four or five days after schedule, then it can be officially considered lost.
When you suspect your packages as lost, wait it out a maximum of seven days beyond the day of expected delivery.
Sometimes, there are packages that turn up after being rerouted somewhere along the chain (they might have also been incorrectly scanned or sorted).
In most cases though, the issue is either a wrong address or a weather-related one. Quite simply, it is not unheard of for a package to turn up a day or two late.
In case the tracking number shows that the product has as 'delivered' and the customer still files a complaint about the package being lost, then it has to be treated as a stolen package. 
Step 2: The packages are lost. Now what?
In case if your customers' packages are truly lost, they naturally expect a refund or a replacement. 
If the shipping carrier is unable to locate the packages, you need to file an insurance claim to cover the combined insured value of the lost packages. This requires the tracking number, proof of value of the item, and proof of insurance.
When you're shipping valuable products, it is always wise to insure the shipments. 
Remember that apart from the insurance sum, the carrier also has to fully refund the shipping costs for failing to deliver the package safely to the buyer. 
Once the claim is filed and investigated, you will receive your dues via the original mode of payment be it through check or credit card.
Meanwhile, make sure YOU send the customer a replacement or a refund with a sincere apology. 
Step 3: File a Refund Claim for the Lost Packages
Step 3.1: How do I file a claim for lost packages?
The tracker on your package is usually true to its name and rarely allows packages to get lost. But on the off chance that the shipping label comes off, or the package is torn and the contents scattered, you'll have no choice but to file lost package claims with the carrier.
Here are a few things you need to keep in mind if you're going to file a claim for FedEx lost packages.
If the contents of the package cost less than $100, you can complete the entire form online and request a refund without documentation.

In the event of the package costing anywhere above $100, proper documentation is necessary for the claim to get processed.

Documentation can include FedEx pickup records, photos of the damaged or lost contents, and proof of value documentation.

Claims have to be filed within 60 days for US shipments and in 21 calendar days for international shipments (with all supporting documentation filed within 9 months of delivery date).

The tracking number that was initially allocated to the package is vital to the process and has to be provided.
After a scheduled inspection, your claim will be processed and you can track its progress.
In the case of other shipping carriers, you can file claims online through the following links and within the following deadlines.
Note: Filing Refund Claims for Lost Packages by Yourself Is a Huge Hassle
Apart from running your hectic business, manually submitting claims with shipping carriers by yourself is a huge hassle for more reasons than one:  
Not Cost-Effective – The amount of time and money you will spend to get a refund will be greater than the compensation you will probably receive
Inefficient Use of Resources – This process doesn't have a definitive output and require lots of back and forth communication along with document re-submissions
Worry not! You can make use of a parcel audit solution such as LateShipment.com to help you effortlessly recover refunds for lost packages while you focus on your core business. 
Step 4: How Lateshipment.Com Helps You Handle Your Lost Packages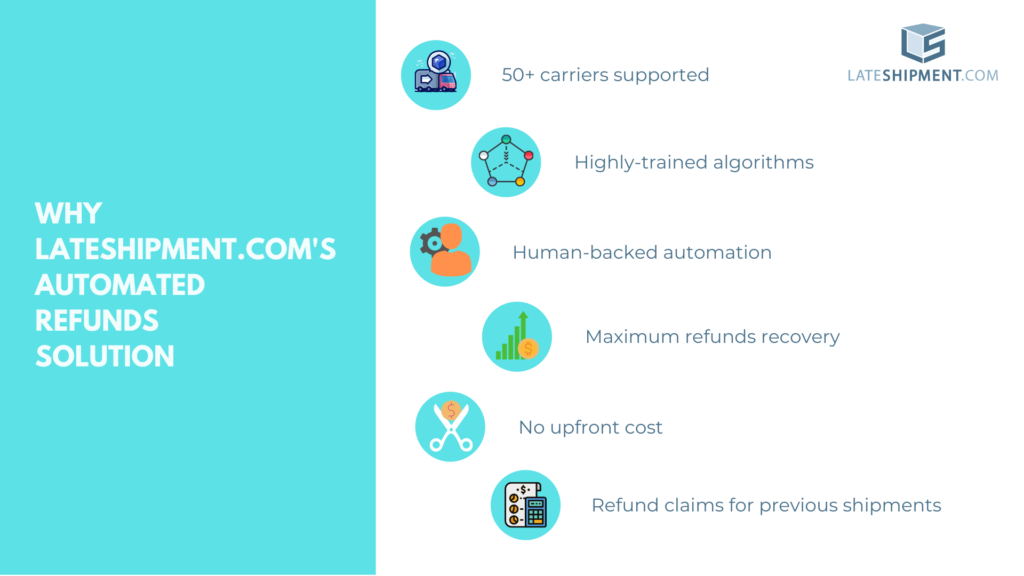 LateShipment.com's Parcel Audit and Refunds solution effortlessly audits your invoices and helps save up to 20% on your shipping costs. The best part is that it takes less than 2 minutes to set-up and seamlessly integrates with your existing workflow.
Our parcel audit and refunds solution: 
Not only submits claims on your behalf but also constantly follows up till issue resolution. 

Makes sure that all claims are submitted within the timeframe of the carrier(s).

Not just lost shipments, but also helps you recover refunds for 50+ service failures like late deliveries. 

And best of all this, you don't have to pay anything out of your pockets. We only charge 50% of the refunds you've received, that too only when it is successfully recovered.
Sure, refunds are great for your business. But getting them doesn't help in mitigating the pain of a loyal customer who might have lost  packages such as birthday gifts or an anniversary surprises.
That's when our other feature Delivery Experience Management (DEM) platform can help. DEM is particularly helpful if you are a bulk shipper who uses multiple carriers and would prefer an efficient automated workflow.
Step 4.2: How Delivery Experience Management (DEM) Platform Works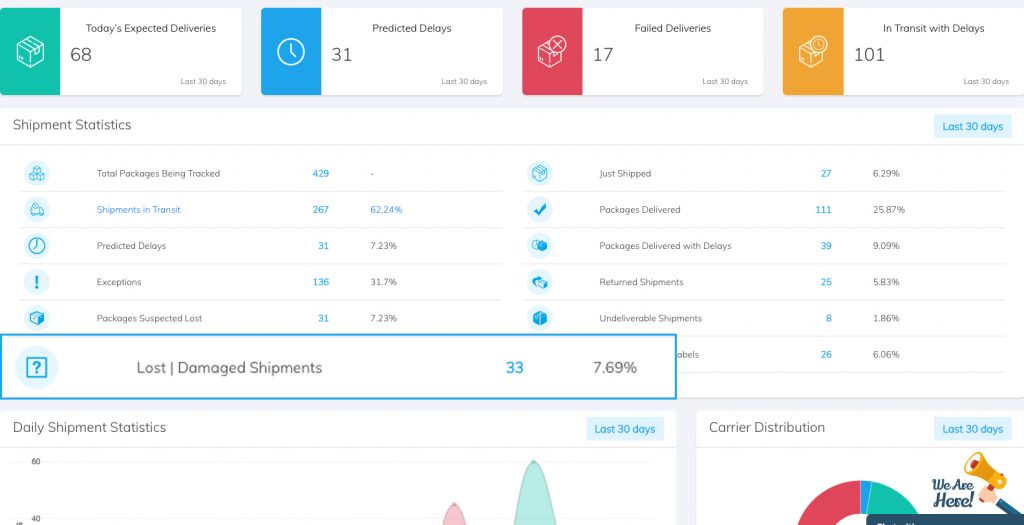 Delivery Experience Management platform keeps you in check the status of the parcel and helps you stay ahead of lost or damaged packages with ease. It is easy to use and tracks every package you send via major carriers like FedEx or UPS.
When a certain package takes a detour, DEM sends out an alert to the sender and the receiver. This helps you foresee a delay and handle it proactively.
If you send out several packages at once, and some of them are suspected lost by our automated system, you are intimated of that as well.
Since you get to know well in advance if one or more packages are flagged as lost, it gives you an edge when you get in touch with the carrier to resolve the issue or send a quick replacement in case of a time-sensitive delivery.
The value we add to businesses is most evident when experienced first-hand. 
 Or, get in touch by writing to us at sales@lateshipment.com